The Chi Alpha Cavaliers punched their ticket to Friday's championship basketball game after defeating the Kappa Sigma Knights 71-51 in the American League championship.
The Knights jumped to an early 7-1 lead before the Cavaliers' junior guard Matt Ashley swished a 3-pointer and senior guard Hans Bauman scored a layup to pull the Cavaliers to within one point.
On the next possession, the Cavaliers' sophomore forward Robert Troutman got fouled underneath and hit both of his free throws to put the Cavaliers ahead 8-7.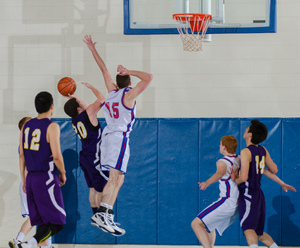 Sophomore guard Bradley Nelson made a big block for the Knights, and two free throws from junior forward Adam Bailey tied the score at 10.
Troutman found the basket again for the Cavaliers, who led 15-10 after another 3-pointer from Ashley.
The Cavaliers led for the rest of the game.
Throughout the game, the Cavaliers played tremendous defense and forced the Knights into double-digit turnovers in the first half alone.
"Defense. It's been that all year," Cavaliers' coach Zach Bruce said after the game. "If we set the tone early on defense, I know we have offense off the bench."
A terrific up-and-under finish from sophomore guard Caleb Ketler, a bank shot from Ashley and a tip-in from Troutman kept the Cavaliers rolling to a 31-19 halftime score.
Earlier in the season, the Cavaliers held a similar advantage over the Knights but struggled in the second half and lost the game. The message at halftime was simple.
"Don't leave that taste in your mouth. Play like we did on Saturday," coach Bruce told his team. On Saturday, March 9, the Cavaliers had overcome a 17-point deficit against the Zeta Chi Tornadoes in an American League semifinal.
Bailey opened the scoring for the Knights in the second half, but before the comeback could begin, Ketler caught fire and nailed three consecutive shots from behind the arc. A 3-pointer from Ashley pushed the lead to 47-29.
Bailey never really got going for the Knights as he was double- and sometimes triple-teamed when he had the ball. After some weak foul calls, Bailey fouled out with 7:48 left to play.
The Cavaliers closed out the game comfortably to secure a chance in tonight's championship game against the Pi Gamma Royals.