Bob Jones University kicked off its intramural sports seasons by hosting a Soccer Jamboree, Sept. 22-23, bringing back a past favorite preseason event. The Jamboree allowed society teams to play practice games against each other before the soccer season officially started.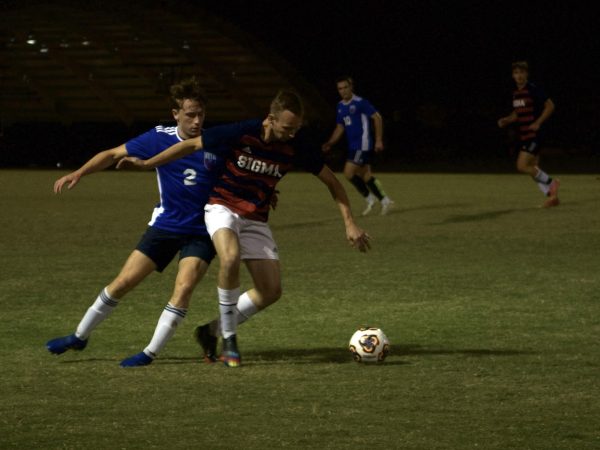 Spanning two days, the men's and women's 11-player teams and seven-player teams played three practice games with referees to test and nail down tactics for the upcoming season. 
"As a faculty/staff kid, I grew up attending society sports events regularly, which is why we organized this event," Intramural director Ryan McCarty said. "Every season would kick off with a Jamboree, which is what we're bringing back with this season." 
There were three goals for the event: for players to have a good time, for spectators to enjoy the atmosphere and watch competitive soccer and to build excitement for the intramural soccer season and the other sports seasons.  
New management for society sports
This school year, society sports has transitioned to the responsibility of The Center for Leadership Development for the first time. It had been managed by the BJU Athletic Department for the past 11 years. The CLD's primary goal for society sports is to serve as a platform for leadership development for students taking part in society sports, McCarty said. It also has the goal of bringing synergy between Bruins Athletics and society sports, he said.  
"My goal is that some of the changes, both now and in the future, will enhance the Bruins society sports experience while also enhancing the Bruins athletics environment as well," McCarty said. 
The possibility of having a Jamboree for other sports depends on the support of players, coaches and society members.  
"If everyone buys in, I foresee a great experience for both the players and spectators both for the Soccer Jamboree and future jamborees," McCarty said.