The Bruins women's beach volleyball team is set to build on more than sand as it enters its second season by learning from preseason games against more established NCAA Division I and II programs. Waves of regular season matches begin March 3 with a tournament in Laurinburg, North Carolina. 
The Bruins intentionally picked a challenging early lineup, according to women's assistant coach Christa Schlichting. "We wanted to schedule tough competition in the preseason so that we could try different line-ups and see how we matched up against the strongest competition we will face all season," she said. 
The Bruins' first game against Erskine College on Feb. 18 gave them a better understanding of their strengths and weaknesses. They dropped four of five matches against their NCAA DII opponents. Andrea Villaverde and Maddy Goldstrom came back from a loss in their first set to win the only match of the day. 
The volleyball team then traveled to Rome, Georgia, Feb. 25 for matches against Tennessee Technological University and Berry College. Losing all their matches showed the team where to focus practice. Schlichting said the Bruins need to work on serves and offensive technicality. 
During the highlight match of the day, Faith Blalock and Timbre Cruz won a set 21-18 against Tennessee Tech, pushing the match to "an exciting three-set thriller" against the NCAA DI team, Schlichting said. 
"We played very polished and tournament-style," Villaverde said. 
Beach volleyball, the fastest growing sport in the NCAA, differs significant ly from indoor volleyball, featuring two-on-two competition in outdoor sand courts. Collegiate beach volleyball also differs from the Olympic version by including different attire, only female players and by having two-person pairs from each team dual until one side wins three matches, rather than the Olympic model of two-person teams dueling for individual medals.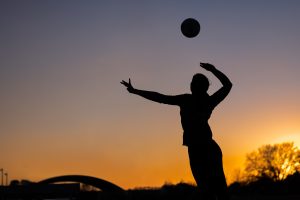 Several of the beach volleyball players, including team captains Timbre Cruz and Emma Riddle, also play on BJU's indoor volleyball team. "Their enthusiasm and leadership have helped bring our 2023 squad together this season, and we are excited to begin the regular season," Schlichting said. Four other team members played beach volleyball last year, while about half of the players are new to the program. 
Beach volleyball's different format requires different strategy, such as trying to force the opposing players to scramble around the court, opening up the court and making it easier to quickly score points. The courts are also shorter than indoor courts, so players must beware of hitting the ball too far, and tipping the ball is not allowed. 
Villaverde said that even though many of the players are new, the coaches and team members work to form a tight group. They always have team meals and team devotions while traveling for competitions. Players don't use their phones much on game days. They also have team practice on Mondays and Wednesdays after eating together. 
Even tough times in practice build team spirit. "Suffering together helps us grow closer," Villaverde said. 
"We are [a] young program, but we are excited for the opportunity to build this beach program," Schlichting said. "We have a great group of young ladies who want to work hard to get better every day."