Mike Pence speaks about 2024 election, faith and civility at Bob Jones University 
Former U.S. Vice President Mike Pence addressed more than 650 attendees in a "fireside chat" March 2 at Bob Jones University, speaking on his faith and vision for America's future. In addition to the main event in Stratton Hall, where BJU history faculty member Linda Abrams interviewed Pence, the former vice president fielded questions from a group of pastors in Levinson Hall and signed hundreds of copies of his New York Times bestselling book So Help Me God.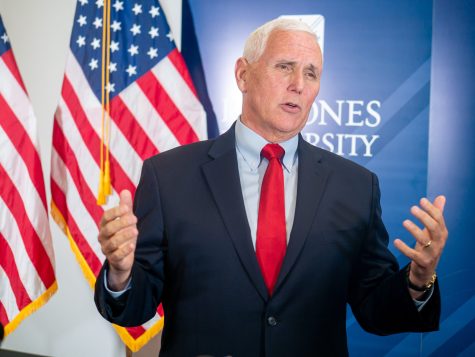 When asked several times whether he would run for president, Pence did not commit either way. He said he and his wife were praying to find out if God was calling him to run, and he wanted to listen to the American people's opinion. "I'm very confident that our voters will choose the right standard–bearer who will lead us to victory in 2024," Pence said in a press conference before the fireside chat. 
Pence said in his speech that the greatest challenge facing America today on the world stage is "the renewed aggression by the enemies of freedom- — Russia with its unprovoked invasion into Ukraine and China with its increasingly menacing posture across the Asia-Pacific."  
Pence said the U.S., as "the leader of the free world," must continue supporting Ukraine. "I've met Vladimir Putin. Anybody that thinks that Vladimir Putin will stop if he overtakes Ukraine has another think coming," he said in the press conference.  
"I believe the Ukrainian military — President Zelenskyy — have demonstrated that they know how to fight for their freedom," Pence said. "We just need to give them the resources to fight and win."   
Fireside chat in Stratton Hall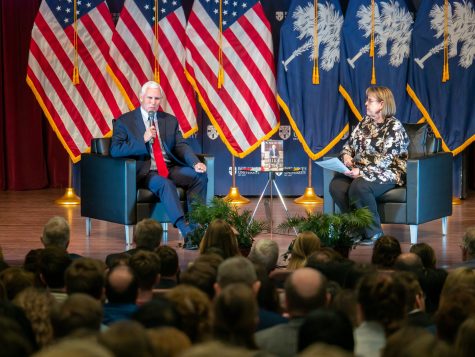 Pence described himself as a "Christian, conservative and Republican, in that order." He joked, "I've always said that I'm a conservative, but I'm not in a bad mood about it." 
Abrams first asked about the former vice president's faith. Pence was raised in church, but said he lost interest in faith during his teenage years when he "started to experience some social success." However, his attitude changed on "a rainy day in 1978" while listening to preaching at Asbury University in Kentucky. "It was as though I heard the words for the very first time, that 'God so loved the world that He sent His only begotten Son that whoever might believe in Him might not perish but have everlasting life.' And I stood up, and I walked down, and I accepted Jesus Christ as my personal Lord and Savior, and it changed my life forever." 
However, Pence said his faith and his politics initially conflicted. "I allowed my ambition to get ahead of my living out my values in the public square," he said.  "I got involved in a couple of really tough, negative campaigns — a lot of personal attacks back and forth. But when it was all over, I felt convicted in my heart that I hadn't lived up to the standard that I'd embraced on that rainy night in 1978." 
After losing congressional bids in 1988 and 1990, he had to rethink his goals and methods of campaigning. "I came to the conclusion that if I was to be in public life, I needed to live up to that admonition to do unto others as you'd have them do unto you."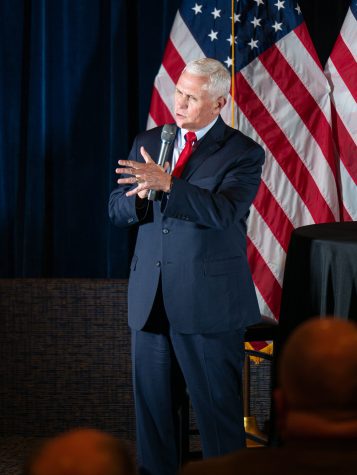 What did that mean for him? Axing personal attack ads from his campaigns. "I really do believe negative personal attacks have no place in public life." Pence did make a distinction between attacking ideas and attacking people. 
Pence highlighted his support for the pro-life cause, citing Jeremiah 1:5 and Deuteronomy 30:19. "Shortly after I came to Christ, I had opened up the Book and I read 'Before I formed you in the womb, I knew you,' and 'See, I set before you life and death, blessings and curses. Now choose life so that you and your children may live.' And for me, as a Bible-believing Christian, there is no greater cause than the cause of the sanctity of life." 
"We must not rest, we must not relent until we work and pray to restore the sanctity of life to the center of American law," Pence said. He said the highlight of his time as vice president was helping, in a small way, to pick the three Supreme Court Justices who overturned Roe v. Wade. 
On his relationship with former President Trump, the former vice president joked, "Some people think we're a little bit different." He continued, "Obviously, our administration did not end well. I write candidly about those difficult days at the end. But up until that moment I will tell you it was a relationship and a friendship that I believe served the interests of our cause and the interests of the American people." 
During the fireside chat, Pence said his actions on Jan. 6, 2021, reflected his higher commitments to the Constitution, which he believes only allowed him to open and count the electoral votes.  
"I do not believe that the Founders of our country intended to invest the Vice President with unilateral authority to decide which electoral votes should be counted during the Joint Session of Congress," he wrote in a letter Jan. 6, 2021. 
 "Every office-holder takes the same oath to support and defend the Constitution of the United States, but it ends with a prayer: 'So help me God,'" Pence said during the fireside chat. "Psalm 15 says, 'He keeps his oath even when it hurts,' and I know something about that."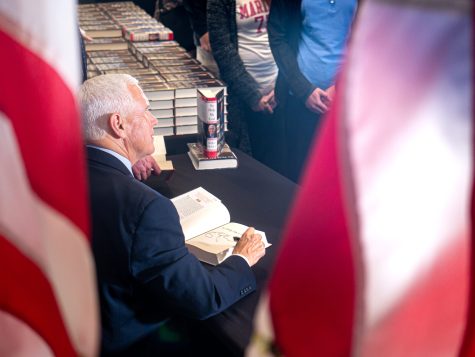 While Pence said his confidence in the government has dropped every year he has worked in politics, he said his confidence in the people of America has grown. "This is a great nation filled with people that love freedom, people that are principled, people that are generous and caring, and the great challenge we have for this country is to just have government as good as our people again," he said.  
"I think you get 15 miles out of Washington, D.C., the American people actually get along pretty well in this country," Pence said regarding negative partisanship. He pointed to the sense of unity enjoyed by many Americans and even political rivals following the 9/11 attacks. Promoting this kind of unity, he said, "doesn't mean we won't argue. That's what Congress is for. Have it out; take the vote. But then have the ability to recognize at the end of the day, we're all Americans." 
Pence recalled opportunities to work across the aisle with Democrats. He crossed the Edmund Pettus Bridge with civil rights leader and late Congressman John Lewis of Georgia to memorialize Bloody Sunday in 2010. The late California Rep. Tom Lantos, a Holocaust survivor, asked Pence to co-chair the Congressional Anti-Semitism Task Force. "Democracy depends on heavy doses of civility," Pence said. "And when we treat one another with respect it actually creates the opportunity to find common cause." 
The former vice president also expressed concern over the increasing national debt. "I'm going to champion fiscal discipline and limited government and reform for this generation and the next, so help me God." 
When asked about his regrets, Pence said he wished he had served his country by joining the military and encouraged audience members to consider military service. 
Comments on Bob Jones University 
Pence thanked BJU President Steve Pettit for hosting him and said he was honored to speak on campus. "Thank you for your hospitality and for your extraordinary leadership of this special institution, not only in the life of South Carolina but the life of the nation. I have met more than a few Bob Jones graduates in the state of Indiana, and they all do you proud." 
Pence also answered a Collegian reporter's question about dating advice for young people. He said he hesitated to mention his faith to girls he went on dates with while in college, which made the topic awkward once it invariably came up. "I'm a born-again Christian, so I decided the next girl that I was interested in, I was going to tell her on the first date about my commitment to Christ. And her name was Karen Whitaker, and the rest is history." 
Leave a Comment
Your donation will support the student journalists of Bob Jones University. Your contribution will allow us to purchase equipment and cover our annual website hosting costs.
About the Contributors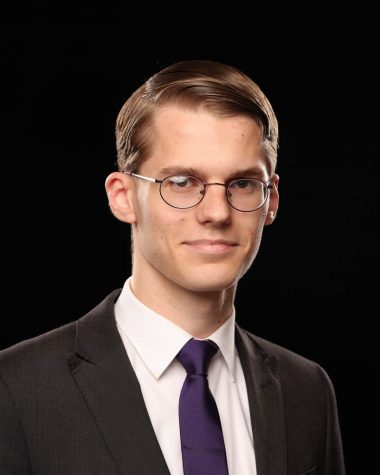 Zachary Smith, Staff Writer
Zachary is a junior accounting major from Lilburn, Georgia. He loves genealogy, missions, debate, and creative writing, among other interests. Connect with him on social media @ZacharyJonSmith.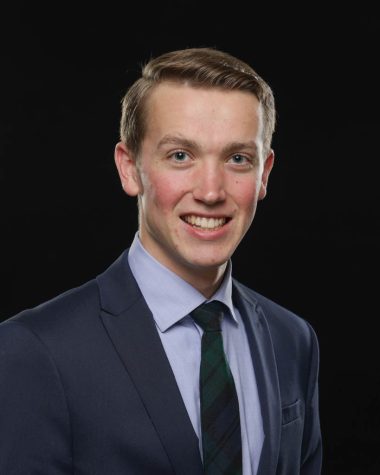 Nathaniel Hendry, Editor-in-Chief
Nathaniel Hendry is a senior communication major currently serving as the editor-in-chief of the Collegian. Before becoming editor, he worked as a writer and photographer for the Collegian for three semesters. He also runs a videography business and in his free time enjoys running, playing sports, reading, gardening, traveling, hiking and camping.