The first film produced by BJU's Unusual Films in 1955, Wine of Morning, was re-released for the first time in full high definition on Friday, October 6. Two special showings of the film were presented to audiences during BJU Homecoming and Family Weekend, and the restored film can now be purchased on new DVD sets.  
Notable to BJU students and alumni, the film starred Dr. Bob Jones Jr. as Pontius Pilate and Dr. Bob Jones III as the thief crucified next to Jesus on the cross. The film is also notable for being the first screen appearance of actress Mrs. Katherine Helmond who would go on to star on television sitcoms such as Who's the Boss.  
The film, based on a novel by Dr. Bob Jr., centers on the biblical character Barabbas who the Jews demanded be released as Jesus was sent to the cross. The character in the film is portrayed by Mr. Al Carter as a merchant named Joel who takes on the name Barabbas to fight the Romans who have oppressed his people. Audiences see him progress from an angry young man into a violent revolutionary until an intense encounter with Jesus Christ dramatically impacts his life. Dr. Jones III spoke to The Collegian about his time on the film and some of Unusual Films's history.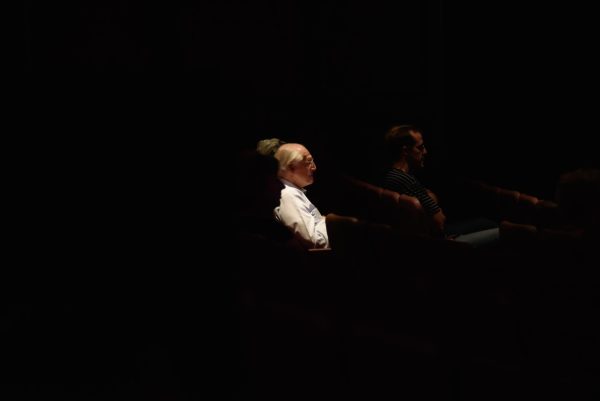 "Mrs. Stenholm, who was a speech teacher, got thrown into… filmmaking business," Dr. Jones III said. His father, Dr. Bob Jr., spoke to her about his desire to start a cinema department. She had no experience in filmmaking, but Dr. Jones Jr. was confident in her ability to learn the craft and sent her to Hollywood for three months where she studied on the set of the 1950 film Cyrano de Bergerac. When the time came for Unusual Films' first feature, "her cinematographers, her sound people, her editors… they were all picked from [BJU]," Dr. Jones III said. God used their gifts to spread His word, he said. 
Describing his part in the film, Dr. Jones III said, "I was 14. I enjoyed it a lot. It is hard work; it is not glamorous by any means."  
Students, faculty members and staff members all came together after hours to make the movie, sometimes staying on set until two or three in the morning, he said.  
"It was an act of love on everybody's part," Dr. Jones III said, "and it was amazing to see… the whole school come together." Everyone was certain they were making a product God could use, and it would leave an impact beyond their lifetime, he said. 
Dr. Jones III enjoyed interacting with his co-star Al Carter, who was a college student at the time of production. 
"I looked up to him as a big hero," he said. "He was large in my eyes." 
The highlights of the film include the crucifixion of Christ and a ship caught in a storm at sea. The crucifixion was shot on a soundstage, he said. He hung about seven or eight feet off the ground.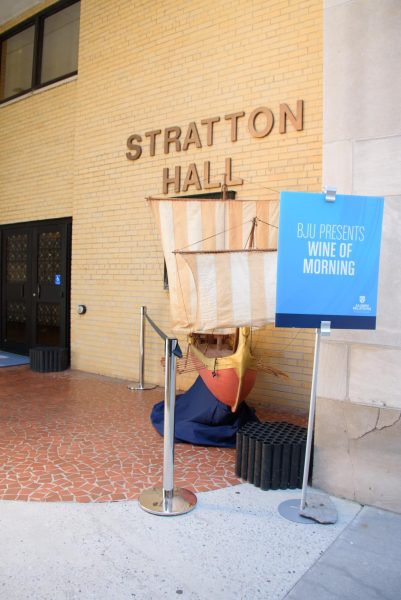 "I was tied up there with ropes on the crosspiece, and then my feet were resting on a protrusion from the upright [beam], so I had something to stand on," he said. "It was not comfortable."  
He said filming the storm at sea was a technical marvel at the time of the film's production. Crews built a 4-foot-tall frame around the entire interior of the soundstage, lined it with black plastic and filled it with water, he said. High school students jumped in the water and used 55-gallon drums to stir the water, which created waves that rocked a miniature boat, looking very realistic as far as special effects in the 1950s could accomplish, he said.  
Dr. Jones III discussed what it is like portraying a character that embodies such a meaningful part of Christianity.  
"I remember the deep emotion, even as a 14-year-old kid, thinking this thief was a real man, and he was suffering as real men do under these circumstances," he said. "And he deserves what he's getting. But he realizes this one to the side of him is not like me. He did not deserve this. [So], here is a repentant heart. All of these things you have to deal with as the actor, and it got very emotional for me…. The reality of salvation… I was getting to portray also on a cross." 
The re-release of the film was accompanied by new interviews with surviving cast members, which can be found on the BJU General Alumni Facebook page. Many original cast and crew members as well as their families also returned to campus to celebrate the restoration.  
The film's legacy includes a number of awards it received in the university film section of the Cannes Film Festival in France in 1958. Judges and critics from all over the world were exposed to the Gospel message and that message has now endured for over 65 years.