Past and present leaders of an unassuming band of Bob Jones University prayer warriors testify to a rich history of God's faithful work through their student organization. What began on BJU's campus more than eight decades ago as Mission Prayer Band continues today under the name Missions Advance. The group of primarily undergraduate BJU students meets in Alumni 217 on Mondays and Thursdays at 9 p.m.
Lukas Shelton, a junior biochemistry and molecular biology major, is in his second semester leading Missions Advance. "It taught me to pray," Shelton said. He highlighted several ways he has been blessed through his participation in the organization, including developing a consistent prayer life and making connections with visiting missionaries.
"I've met a few missionaries from Papua New Guinea who have come here a couple times, and they stay in touch with me," Shelton said. "I met one from a closed country…. When he's in the States, I can text him, and he prays for me; I pray for him."
"Missions Advance is a great environment to meet humble, anonymous heroes of the faith that are alive today and let them make an impact on you," said Timothy Martin, who graduated in 2022 with a degree in ministry and leadership. "If you've never participated in or heard of Missions Advance, you're missing out on a really good opportunity."
Martin served in Missions Advance leadership roles for two years. He is now a pastoral intern in Greer, South Carolina. During his time with Missions Advance, Martin worked to build a broader network of speakers from likeminded mission boards and increase attendance at meetings. On one occasion, he helped arrange for underground pastors from China to speak at Missions Advance while they were on campus for an event, which he said was a highlight of his experience with Missions Advance.
One of the underground pastors did a Q and A for the Missions Advance attendees. The pastor gave "a lot of wisdom and grace from someone that had spent a lot of time in prison and suffering on multiple different occasions," Martin said. "We sang an original Chinese hymn that [he] had composed in the context of his local church for us." Martin later learned that some of the pastors had been questioned about their trip by the Chinese authorities upon returning home, adding another layer to the experience.
Impact on Alumni
At age 73, Jim Chakeris, who graduated from BJU in 1997 with a degree in pastoral studies, still faithfully participates in Missions Advance meetings. He is by far the oldest regular attendee. When asked what he enjoys about the organization, he replied, "Good fellowship and the missionary speakers and singing and praying for missionaries."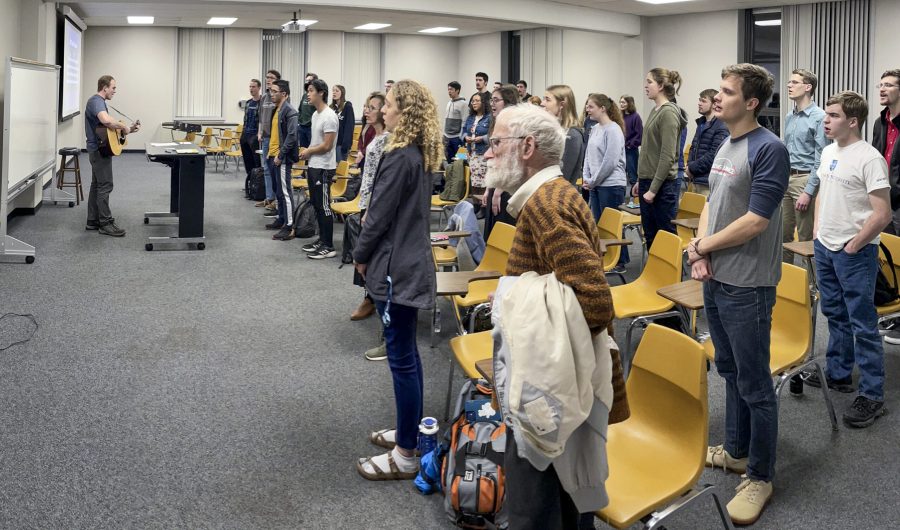 Chakeris, affectionately known as "Mr. Jim," sympathized with busy students. He participated in Mission Prayer Band during his studies in the 1990s. He encouraged students to prioritize Missions Advance because it is "a good stress relief from classes and all. You can come over here and just talk to people and then pray with them," he said. Aside from participating in Missions Advance, Chakeris helps at church plants in upstate South Carolina.
Brendon Johnson earned three degrees from BJU, including a bachelor's degree in church music. He served as the organization's secretary from 2011-2013 and treasures many memories of special missionary speakers through the years. However, he believes many of the most important meetings were when they didn't have a special speaker. Instead, the students split into small groups and read missionary up-date letters, then prayed for needs mentioned in the letters. "That teaches you a lot about what's going on around the world," he said.
"What I think was valuable about those times is you're getting together with other believers and hearing them pray," Johnson said. "You learn a lot about what prayer is. You learn about what it means for us to agree together in prayer, and doing that regularly has given me a habit of regular prayer for missionaries that I continue to this day."
Johnson emphasized Missions Advance's role in fulfilling BJU's mission of equipping Christians to serve God around the world. He said does not know of any participants who regret the time they invested in the organization. "I strongly encourage every student at the University to participate as much as possible!"