This past Friday, Oct. 20th, Bob Jones University held its annual Washington Center Challenge Day in conjunction with the Washington Center school, Special Olympics Greenville and Greenville County Parks, Recreation & Tourism.
Washington Center, a school within the Greenville County School District, educates students with profound and severe intellectual disabilities. Each year, BJU hosts these students to participate in fun activities meant to stimulate them mentally and physically. These activities are run by BJU education and communication disorders majors. Each Washington Center athlete was also assisted by two or three BJU students as they participated in the event. Over 200 university students were involved.
"I think my favorite part of the day is watching our BJU students simply jump in and authentically serve a population that is too often forgotten or neglected," said Mrs. Christiana Miller, an education professor and organizer of the event. "Even for those who do not necessarily feel called to working with people with special needs vocationally, they report that Washington Center Day brings them so much joy and fulfillment."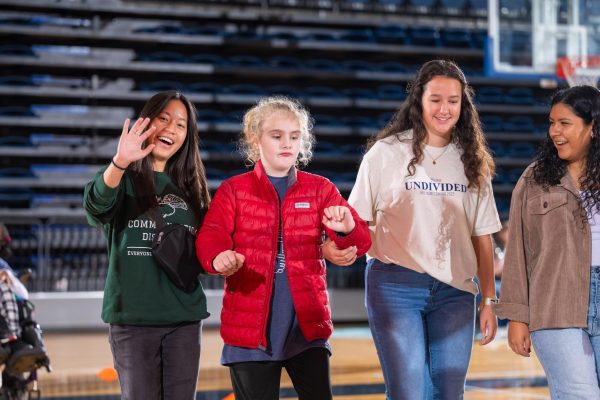 Cora Gagne, a freshman English education major, agreed. She volunteered as a "fun town worker" by helping to run one of the activities.
"I think this is really cool," Gagne said. "I love how all these kids get to participate and feel they are really special. I love the attention they are getting."
Originally intended to be held outdoors, the event was moved to the Davis Field House due to rain. Each athlete entered the event with an individual introduction and cheers from parents, staff, and volunteers. When the activities began, the gymnasium and halls surrounding it were full of voices, laughter and music. Frequently over the loudspeaker, the emcee for the event would encourage participants to cheer and applaud a particular athlete. Participants would stop what they were doing and celebrate the athlete's accomplishments.
"This is so much fun!" said Mrs. Jess McGlitty, a parent from the area. "I love that it is tailored for special needs kids. It's all things they can do."
Mrs. McGlitty's ten-year old son participated as an athlete in the event.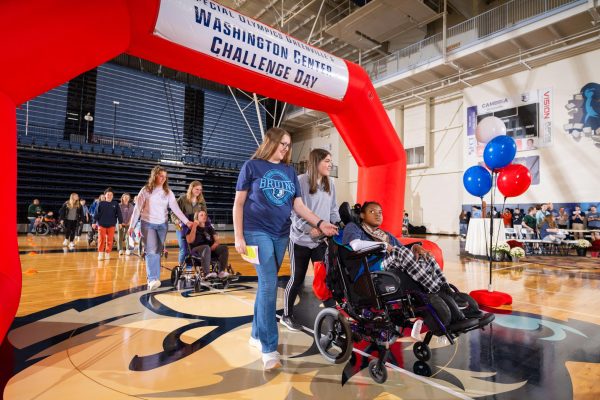 "He needs a lot of help, but he loves doing stuff like this, using his hands, playing with toys," she said.
Athletes could choose from a wide variety of activities, like soccer, baseball, giant connect four or blowing bubbles, among many others. BJU students supported athletes at each activity, encouraging them to enjoy themselves and try their best.
"What a blessing to watch our students be the hands, feet, eyes, and ears of Jesus to a part of our community that needs it the most," Mrs. Miller said. "This so beautifully demonstrates the "pure religion" that James 1:27 challenges us to embrace."
Learn more about Washington Center and its mission here.