Curious about Homecoming? Here is your comprehensive guide to what is going on this weekend at Bob Jones University.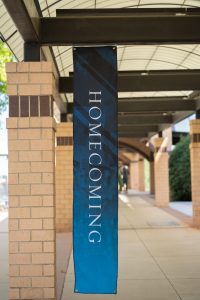 "Homecoming gives us the opportunity to interact with alumni, " Men's Student Body President Johnny Pierre said. "We don't usually get to do that. It's a great time."
The Student Leadership Council chose "Bruins Undivided" as the Spirit Week theme. Pierre talked about how difficult the past four years have been for BJU, yet the University has been able to overcome those obstacles.
"God kept us together, He kept us undivided, when we put our trust in Him," Pierre said.
The Spirit Week theme will be featured on the Homecoming shirts. Students are encouraged to purchase these and wear them with jeans on Thursday.
At 10 p.m., Thursday, at Alumni Stadium, the Faculty Football Game will kick off. Students are welcomed to come cheer on their favorite faculty and staff. The players include Dr. Renton Rathbun, Dr. Matthew Weathers, dorm supervisors Mr. Max Burak and Mr. Joshua Ortiz, and Mr. C.J. Billiu. The captain of the blue team will be Mr. Jonathan Daulton, and the captain of the white team will be Mr. Aaron Burk. Tickets for the game are $5 each. All proceeds will go towards Lilypad, the featured fundraiser this Homecoming.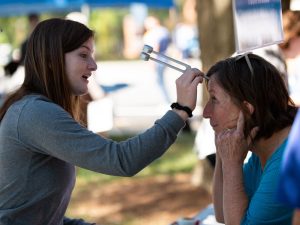 Lilypad is directed by the wife of a BJU graduate. Its mission is to provide safe, comfortable, friendly spaces for children in South Carolina transitioning into foster care. Read more about Lilypad here.
"Our focus has mainly been internationally," Pierre said. "This year we wanted to focus on something that is close to home, something the students can relate with."
Friday, students are invited to eat dinner at the Activity Center between 5:30 and 7. The Dining Common will be closed. At 10 p.m. that night, the SLC will host a student Pep Rally.
"I'm not going to spoil this one, but it will be fun," Pierre said. "There will be games, food and a lot of energy."
Students will compete in two teams at the Pep Rally. The freshmen and seniors will play as the white team, and the sophomores and juniors will play as the blue team. Previous years have involved games like volleyball, four corners and dodgeball.
Saturday morning, the Greenville community is welcomed to BJU for U-Day from 10 a.m. to 1 p.m. U-Day offers family-friendly, educational events for students led by Greenville non-profits and BJU organizations. Hot air balloon rides will also be hosted from 10 a.m. to 1 p.m.
The Maker's Market will be hosted in the Welcome Center from 10 a.m. to 5 p.m, featuring arts and crafts from alumni, faculty and students.
At 2 p.m., BJU will host the Homecoming Concert in Rodeheaver Auditorium, featuring the Symphonic Wind Band, Chorale, and University Symphony Orchestra. Students are encouraged to join alumni and sing along. The concert is expected to last fifty minutes.
At 4 p.m., the Bruins women will play Florida College. The men will play Emory & Henry College at 7 p.m. From 5:30 p.m. to 7 p.m., BJU culinary arts students will serve a barbecue meal with sides and dessert. Following the games, Homecoming will end around 9 p.m. with a fireworks finale.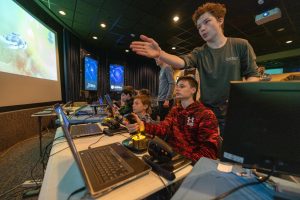 Pierre encouraged BJU students to come out and enjoy the Homecoming events.
"Homecoming is a time to relax and enjoy the spirit of BJU," Pierre said. "In two weeks, we are going to be studying for midterms. Everyone is at the point where they need a break. Really just have fun, enjoy it."
To view the entire Homecoming schedule, click here.