Faculty adviser retires after 36 years of serving The Collegian, 44 years teaching
A decade after winning the Distinguished Servant Award from the Bob Jones University Alumni Association, Betty Solomon has finally reached the end of an illustrious career of teaching and will retire at the end of the spring 2023 semester.
Solomon has been The Collegian's faculty adviser for 36 years, and the paper has won many awards under her oversight. Before her work with The Collegian, Solomon served as faculty adviser for BJU's Vintage yearbook. Solomon has taught in the Division of English Language and Literature and currently teaches courses in the Division of Communication's journalism and mass communication department.
Solomon has worked as a freelance reporter for The Greenville News, and she earned a master's degree in journalism and mass communication from the University of South Carolina and a master's degree in English education from BJU.
Looking back
Solomon recounted some of her favorite memories of the paper's early years. In the earliest days of The Collegian, computers did not have the design functionality available today. The original staff had to print off the articles and physically paste them onto a board with wax. If the design changed, the articles might not fit, and the students would have to physically rearrange the content again.
Today, Collegian staff use Adobe InDesign to easily create and edit the paper's layout.
Solomon said she also enjoyed watching the paper grow and adapt over the years. The paper was originally published every other week. In 2005, in response to input from students, the paper began publishing articles weekly under the leadership of editor-in-chief Ryan Fisher. In 2022, in response to the industry's shift toward online publishing, The Collegian began prioritizing its weekly online issues while publishing a print issue once a month. The Collegian continued its shift toward emphasizing quick turnaround times with a spring 2023 major website upgrade.
Jewel Schuurmans, another former Collegian editor who is now a graduate student in communication studies, said Solomon's work was a huge catalyst for her own growth. "My time writing for The Collegian was the single best benefit to my ability as a writer, journalistically or creatively." Schuurmans admitted that it was hard to get critical feedback at first, but that she learned how much better Solomon's suggestions made her writing.
After becoming an editor, Schuurmans found she could always rely on Solomon's wisdom in making edits. "I could always count on her being a resource, regardless of the situation," Schuurmans said. "Anyone who has been taught by her immediately gets the impression that she knows exactly what she's talking about."
Johnathon Smith, another former editor-in-chief of The Collegian, said he is thankful for Solomon's work and input. "For over 35 years, Ms. Solomon has poured her heart and soul into making The Collegian the best paper it can be. I'm grateful I had the chance to work with her and learn from her dedication."
Moving on
What is Solomon hoping to do in retirement? "Not grade papers." After 45 years of reviewing students' work, Solomon can immediately identify and correct the most common student errors. "I love working with students one on one," she said, "but grading papers — not my favorite thing."
In addition to resting from editing student work, Solomon looks forward to resting in general. Although not really a travel enthusiast, she wants to spend some time in Virginia with her sister and family as well as visit nieces and nephews in several different states. A self-described homebody, she looks forward to spending time working on her home, practicing calligraphy and surprising her miniature schnauzer Oliver by staying home every day.
Solomon said she enjoys keeping up with her past students on social media. "I try to keep up with as many former students as possible," she said. "I love, love, love seeing what they're doing and where they're going and how they're using what they learned at BJU and especially what they learned at The Collegian to better serve the Lord."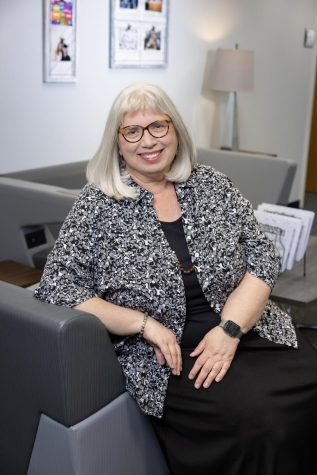 Solomon's retirement coincides with other major changes at The Collegian. Starting in the fall of 2023, The Collegian will have a new faculty adviser, new editorial staff and new publishing flow. Solomon left a few words encouraging the incoming crew to realize their opportunity to gain valuable experience, have fun, meet interesting and influential people and probe their minds for details and insights. Or, as she put it, "You just get to be a little nosy about people by asking them questions, which I find very fun."
In addition to her influence and advice, Solomon will also leave the next Collegian faculty adviser some books, along with her now-iconic editorial cartoons that adorn the walls of her office. The cartoons, which include figures such as George H. W. Bush, George W. Bush, Bill Clinton and Saddam Hussein, were a gift from Fisher, who left them when he moved to France to continue his work as a communications professional while helping a missionary family and local church.
Even though the incoming staff will not benefit directly from Solomon's work, Schuurmans said she looks forward to seeing the paper continue to grow. "The Collegian has a bright future because it has a strong foundation, and a major part of that foundation was Miss Solomon's work on it since it started."
Leave a Comment
Your donation will support the student journalists of Bob Jones University. Your contribution will allow us to purchase equipment and cover our annual website hosting costs.
About the Writer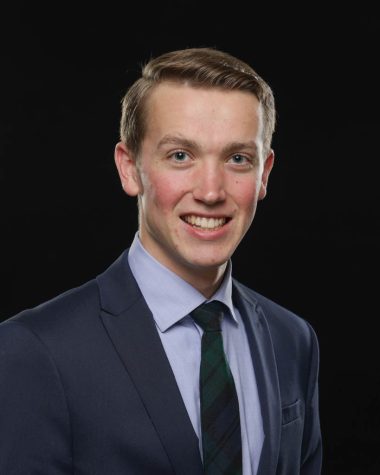 Nathaniel Hendry, Editor-in-Chief
Nathaniel Hendry is a senior communication major currently serving as the editor-in-chief of the Collegian. Before becoming editor, he worked as a writer and photographer for the Collegian for three semesters. He also runs a videography business and in his free time enjoys running, playing sports, reading, gardening, traveling, hiking and camping.