Meet Jeffrey Kelly, director of the Student Care Office 
While Bob Jones University has provided counseling for its students for many years, the Student Care Office is relatively new, and it now has a new director. Student Care was formed in 2015 to care for students' spiritual needs, with Pearson Johnson as its first director. Last year, when Johnson transferred to the department of academics and mentoring at BJU Seminary, Jeffrey Kelly was hired to direct Student Care. 
Kelly is working on his doctorate in biblical spirituality from Southern Baptist Theological Seminary while directing Student Care. As a counselor, Kelly helps students with specific problems in their lives, like addiction or depression. But the focus of his doctorate is on preventing those same problems from growing. 
"I suppose I think of my work in this office as both preventative and corrective," Kelly said. "So while somebody needs specific help in a specific area in their life, we try to mine biblical truth and infuse that into their lives through the work of the Holy Spirit. We're also laying a foundation for preventative medicine. Because what's happening is they're going to walk away from this problem, hopefully, with victory, but they're going to have instilled new disciplines to keep from falling back into those same thought patterns or desires that led them to that initial problem." 
Kelly grew up as a pastor's kid in upstate New York, in the predominantly Catholic town of Ticonderoga. Growing up in a small church, he began to have a real love for Christian fellowship but found that it was hard to find young people his age who shared his interests. His brother and sister introduced him to BJU, where he enjoyed the opportunities for fellowship with other believers. But despite this, Kelly says that he was a spiritual and emotional wreck during his freshman year. 
"I was lost in the bigness of the school and was socially distracted, and I struggled academically," Kelly said. "Spiritually, I was trying to get my footing. In the midst of it all, God used my own failures to get a hold of my heart. I can see God was carrying me through in spite of myself. Like wanting holiness, wanting godliness, but also wanting to live in the flesh. I was a typical double-minded man." 
Kelly had an epiphany later in his college career while he was walking from the Dining Common to the Student Center. He says God impressed on him that he could not have it both ways — he could not have a life in the flesh and a life in the Spirit at the same time. He had to choose one or the other. 
"At this point, my decision to follow the Lord began to crystallize," Kelly said. "I remember thinking, 'Lord, if I am going to follow you, I must follow you with all of my heart.' I began making decisions at that point that were more spiritually based — less fleshly based — and I really began to grow in the Lord."  
That decision began a whole new trajectory for Kelly's life. He received an undergrad degree in marketing, then he returned to BJU to pursue a master's degree in pastoral theology. He was involved in church planting for several years, and he served on pastoral staff at a church in Raleigh, North Carolina, before returning to BJU. 
Kelly says he loves working with students who come to Student Care seeking help. "When you look into the eyes of a student, and they're asking for spiritual help, there is something beautiful in that," Kelly said. "When you see a student who comes in and they're burdened by different things going on in their life, you can see it, they're hunched over. They're heavy and tired. And Christ says, 'Come unto me all you who are burdened and heavy-laden, and I will give you rest.'" 
Kelly wants his visitors to learn how to enjoy God and to find rest in Him. "I don't think students need to be afraid or think that this is some kind of mystical moment or a time when they are in trouble," Kelly said. "It's just talking. It's looking to God. Relying upon Him. Trusting Him to provide the resources we need to grow spiritually. And then just living it out. God definitely wants to move us in a direction of greater enjoyment of Him." 
Leave a Comment
Your donation will support the student journalists of Bob Jones University. Your contribution will allow us to purchase equipment and cover our annual website hosting costs.
About the Contributor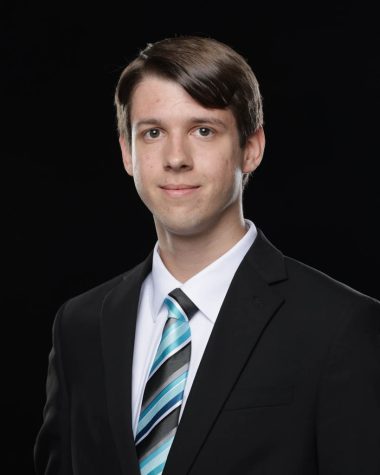 Zachary Edmondson, Staff Writer
Zachary Edmondson is 21 years old and is a multimedia journalism major at Bob Jones University. The former homeschooler dreams of becoming a novelist after graduation, and of publishing a magazine. This is his second semester with The Collegian—he is also a staff writer for Inkwell Literary Magazine.