Concert will honor Fred Coleman's 35 years of music ministry at BJU and premiere original song
A concert at Bob Jones University will celebrate the legacy of Fred Coleman's more than 35 years at BJU. Held Tuesday, April 25 in War Memorial Chapel at 7 p.m., XXXV — Celebrating 35 Years will feature the world premiere of acclaimed composer Lloyd Larson's new arrangement of "Come to Jesus (Rest in Him)," written especially for this occasion. The concert will also feature the campus premier of "This Is the Day" by BJU graduate Dan Forrest, and Coleman's former student Stephen Schaub will play the organ for John Rutter's Te Deum.
Coleman, a BJU graduate and head of BJU's church music department, has been teaching at the University for the past 30 years, accompanied in his faithful service by his talented and loving wife, Ruth. He famously says, "Words learned in song will be remembered long" and hopes the Scripture and theology sung at this concert will be impactful to those who attend. "Worship is more than music, but music is an important part of it," he said. 
Before serving at BJU, Coleman worked in music ministries at many churches. His various life experiences have equipped him to reach out to all kinds of different students, and seeing them grow is the joy of his efforts. Today, many of his favorite compositions have been written by his students. "Somehow, God just kept giving me students that said I made a difference in their lives," Coleman said. "It's a wonderful opportunity for me to be with young people that are from different places, and we all grow together."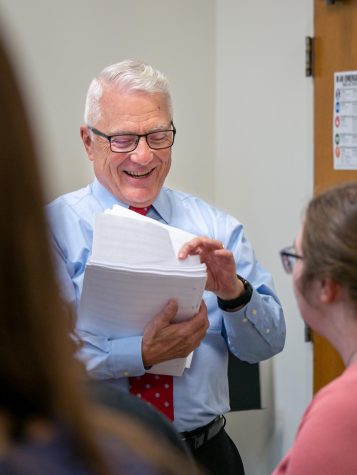 Saved through song 
Coleman grew up in Charlestown, Indiana. He discovered how God had gifted him as he sang in the children's choir at the age of six. "I can tell you my first solo, and everything that happened thereafter — and I just fell in love with church music," recalled Coleman. 
However, his church never challenged him to pursue holiness, and by his teenage years he had become "a rebellious, unregenerate problem child," Coleman said. Fred was shocked when his parents left his liberal church and began visiting a local Baptist congregation. He refused to join them at church for six months. Finally, he gave in. "I went to this Baptist church and had the culture shock of my life," Coleman said. 
However, the Holy Spirit continued to soften his heart. One day, while relaxing in the luxurious waters of his new bathtub, Fred heard his father playing Christian records in the house. The Lord used the music to give Fred a new heart. "I just realized I needed to repent of sin and tell God — and I got saved in the bathtub," Coleman said. "So that changed everything." 
A new passion 
After he finished high school, Coleman won a scholarship to study at Ball State University, widely regarded as the most prestigious musical institution in the country. "It was a miracle that I was there," Coleman said. "But more importantly, I was so on fire for the Lord. I just started preaching in class, in the hallways, getting in trouble for preaching." He devoted much of his time to Bible studies, and as he was mentored by two upperclassmen, he began to mature. 
Even though he was studying music education, he sensed a shift in God's leading. He felt cheated by the liberal church of his youth and felt a raging passion for giving the gospel and preacher.  
However, Coleman was slightly disappointed when his pastors advised him to devote most of his energy to the growth of his special gift for music. The church was willing to hire him but said he first needed to go to a college in South Carolina he had never heard about.  
When a guest preacher found out Coleman was headed to BJU, he said, "I have a daughter there. You should look her up. Her name is Ruth." Coleman did, and that's how he met his wife. 
Music ministry 
The strict, secluded environment of BJU at the time was another culture shock for him. He finished his studies and decided to leave BJU for good. "I'm grateful for everything I got here. But I will never be back," Coleman said at the time. "And I'm going out to the ministry — the real ministry." 
Coleman soon found himself back in his stomping grounds of Indiana, where at age 23 he and his wife poured their hearts into starting a band, a choir, an orchestra and a Christian school. However, Coleman felt a call to leave the comforts of his life and follow Jesus in pursuit of the least of sinners. He began working at a church in Saginaw, Michigan. The city had the highest murder rate per person in the country at the time, Coleman said. His efforts were blessed, and his children were born there. The church also recruited a new youth pastor, Steve Pettit.  
However, God used this time to show the Colemans that this kind of evangelism was not the chosen course for their lives. They ended up in Schaumburg, Illinois, where they built the church's music program, organized the choir and band and were quite content to stay. 
Then one night Coleman's wife told him he had missed a phone call. "And just the look on her face — I thought something bad. She went, 'It was from Bob Jones University. And they're asking if you will come back there [to] teach." That night happened over 35 years ago.  
Outside of their academic lives, Fred and Ruth Coleman love spending time outdoors, including gardening, cycling, visiting the Smoky Mountains and traveling abroad to explore the history and heritage of hymnology. His best memories include training over 90 groups of traveling music ministry teams, building the church music program at BJU, recording music for SoundForth and traveling with Bob Jones Jr. and Bob Jones III. 
Leave a Comment
Your donation will support the student journalists of Bob Jones University. Your contribution will allow us to purchase equipment and cover our annual website hosting costs.