Beauty and the Beast brings Broadway musical to BJU
"A tale as old as time" will be performed at the Rodeheaver Auditorium at Bob Jones University March 9-11, as Disney's Beauty and the Beast: The Broadway Musical takes the stage.  
The play's cast consists of 85 people, including current students, alumni and faculty members. BJU faculty member Megan Stapleton will play the role of Belle. Several Broadway actors will also play major roles in the production, including Tony Mowatt as Lumière, Jonathan Arana as Cogsworth, Devon Guthrie as Mrs. Potts, Eric Smedsrud as Gaston and Andrew O'Shanick as the Beast.  
Stapleton, who is trained in both opera and musical theater, has performed extensively in stage productions, and she is excited to get the chance to play the role of Belle. "The coolest thing about portraying any character is letting my instincts take over and discovering the character's body language, voice and personality as I play her," Stapleton said.  
"I can have a plan beforehand, but then I have to let instinctive inspiration take the lead," Stapleton said. "When I do, I discover so much about my character that I couldn't have planned on paper. It's incredibly liberating!"  
Beauty and the Beast has undergone many changes since it was written in the 18th century. The musical version is based on the animated movie that Disney produced in 1991, which was remade in 2017 as a live-action film. It is also the first Disney musical that BJU has performed.  
Darren Lawson, dean of the School of Fine Arts and Communication and director of the production, expects the ticket sales will break all sales records in the history of the University. Lawson said, "When it's all said and done, we'll have over 10,000 people see the show." BJU had to add an extra performance on Feb. 11 to accommodate the increased attendance from community members and alumni.  
While Beauty and the Beast is entertaining, Christians will notice several biblical messages in the story. Johnathan Swaffer, a biblical counseling senior who plays a minor role in the production, explored some of the story's parallels to the Scriptures. "This is basically a story of a curse falling upon this entire kingdom … and the idea of redemption and restoration in the form of true love," Swaffer said.  
Swaffer also said that, just as the Beast is rescued from the curse by Belle's love, the Christian has been rescued from the curse of sin and death by God's act of sacrificial love, the horrible death and triumphant resurrection of Jesus Christ. "You go to pretty much any story, and you see elements of the ultimate story … because there's no better story," Swaffer said.  
Stapleton said the story also reminds viewers of how God uses even the worst situations to help people. "How often do we consider our 'curses' as blessings?" she said. "One thing I constantly praise God for is that He can redeem all things for His glory, even the really difficult things that happen to us. He can bring beauty out of those ashes. If a struggle brings us closer to Jesus, then we can praise God for redeeming that struggle for His glory and our good!"  
Beauty and the Beast will open on March 9, at 7:30 p.m. A special performance specifically for primary and secondary children ages 6 and up will be presented on March 7. Tickets are available at showpass.com/beautyandthebeast.  
Leave a Comment
Your donation will support the student journalists of Bob Jones University. Your contribution will allow us to purchase equipment and cover our annual website hosting costs.
About the Writer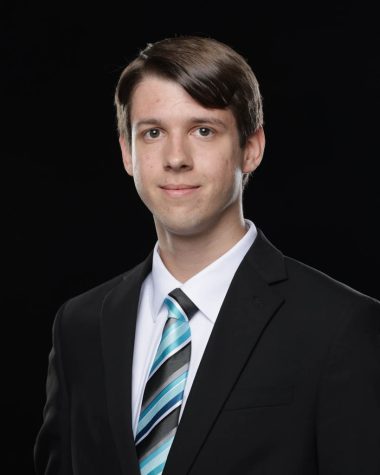 Zachary Edmondson, Staff Writer
Zachary Edmondson is 21 years old and is a multimedia journalism major at Bob Jones University. This is his first semester writing for The Collegian. The former homeschooler dreams of becoming a novelist after graduation, and of publishing a magazine.