Bob Jones University will host its annual career fair Feb. 7-9 from 3 until 5 p.m. in the Davis Room, which is on the south end of the dining common.
Specific career focuses highlight each day so students can plan ahead. Today, the focuses are social services, criminal justice and education.
Police departments from cities including Greenville, Greer, St. Mary's, Columbia; and the S.C. State Law Enforcement Division will attend the fair. Representatives from many schools will also try to recruit future teachers or leaders for this country's schools.
Cherie Binns, a 2012 BJU graduate, began teaching right after graduation due to the connections she made at the BJU Career Fair. She attended the fair all four years that she was a student at BJU, and every year she established connections with different recruiters and schools.
She said she appreciated the support from her advisers and professors at the career fair, as well. "Having them there was really nice for reference," she said.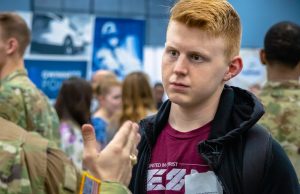 She landed an interview with a school in Midland, Michigan, Calvary Baptist Academy, which then led her to take a position at Bethany Christian School, a sister school in the outskirts of Detroit.
Tomorrow, employers will be seeking out business majors and communication majors.
All majors are welcome every day, but students should pay attention to the key details provided by the focuses of each day.
At least 10 law firms and insurance companies will be looking for the next generation of their employees at the event.
Clemson University will also be pitching their MBA program.
Broadcast, radio, marketing and media recruiters will fill the rest of the room with opportunities for potential internships and jobs for communication majors.
The last day of the career fair, Wednesday, is a big day for future nurses, engineers and any STEM-related majors. Healthcare systems such as Prisma and Maxim will be searching for their next health professionals.
Prisma plans to search for students who stand out based on their purpose statement, which says, "Inspire health. Serve with Compassion. Be the difference."
DeVita & Associates is one company at the Career Fair offering students engineering opportunities. DeVita prides themselves as being "a company with a serious focus on engineering excellence, exceeding client expectations, and developing outstanding people." With engineering jobs, seeking internships and wanting to get involved is important.
Shawn Albert, the director of BJU's Office of Career Services stressed the importance of internships.
"A lot of internships are what businesses use to evaluate someone that they might hire themselves," Albert said. "Then also having an internship in your background makes you much more appealing to other employers."
Albert recommended preparing for the fair by following three tips.
First, write a resume and bring it. Receiving feedback on a resume can help students know what the recruiters and employers want to see and learn how to build their resume accordingly.
Second, Albert suggested students dress professionally. Employers always evaluate their first impression, and that includes how potential employees dress.
Finally, prepare an elevator pitch—a short speech explaining why a potential employer should hire a candidate. A good pitch should include the student's name, a reference and an experience.
This year's career fair provides more opportunities than ever before, marking the first time the event stretches over three days to allow for the large number of employers.