The gingerbread village, a Bob Jones University culinary arts tradition, has returned after a seven-year absence.
In the week before Thanksgiving break, 19 culinary arts students began working on a gingerbread village under the direction of Chef David Miller.
According to Miller, the gingerbread village used to be a staple of the culinary arts program as a part of Introductory Bakeshop, but the project was removed after 2014 due to time concerns and shifting priorities for the course.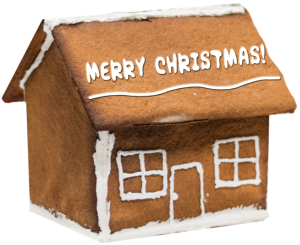 This year, because of a gap in the events schedule, Miller reintroduced the gingerbread village to the program. "We actually used to do events right up to Thanksgiving, but with letting our students go leave at 5 [p.m.] when classes are over, … we realized we can't do [an event] again that Friday night."
The village, which features 10 structures designed and built by the students, is being displayed outside the Kalmbach Room of the dining common, where it will remain until the end of the semester.
One major difference with this year's village is an emphasis on collaboration between the freshman and sophomore classes. The project is part of the CA 211 Culinary Arts Practicum course for the sophomores and the CA 104 Introductory Bakeshop course for the freshmen.
"Their lab times for two of their classes [were] both gingerbread cookies," Miller said. "So, we teamed up a freshman and a sophomore and let them choose what structure to do." Miller also said he hopes the faculty can continue this in future years.
For many of the students, whose courses are usually divided by classification, the experience of getting to work with students outside their class was new.
"I remember that last year, we didn't really get to know the sophomores as much because our courses were so different," said Natalie Garcia, a sophomore culinary arts major. "But this year, we're meeting the freshmen that are coming in and getting to know them and becoming friends with them. So, it's been a lot of fun working with the freshmen so far."
One of the reasons the culinary faculty brought back the village was positive feedback from former students. "We actually had many grads tell us, 'That was my favorite part,'" Miller said. "There was a lot of memories with [the village]."
The current students echoed similar sentiments about the project.
"I like all the creativity because you have to think about, 'How can I make pillars out of something?'" Grace Ramsek, a freshman, said. "You have to think of maybe cookies or a big candy cane or something like that. I just like thinking outside the box about different things to use for the decorating."
"It was actually really fun—more fun than I thought it was going to be," Garcia said. "I really liked how we actually made the gingerbread houses … from scratch and, overall, decorated them how we wanted. That was a cool experience."