Steve Noble, the host of a nationally syndicated radio show, is partnering with the Bob Jones University Seminary on Thursday episodes called Theology Thursday to discuss cultural hot topics in light of the Gospel.
BJU Seminary created a communications team to share the Seminary's biblical worldview and knowledge with listeners such as pastors and budding ministry leaders who otherwise would not have access to the information.
Bob Maistros, a consultant serving as the team leader; Lauren Musselman, a staff member who serves as the content specialist; and Kimberly Snyder, a graduate student who works as the full-time social media and communications coordinator, comprise the team.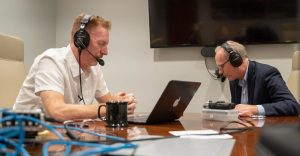 "Each Thursday the program will be devoted to conversations with [faculty] members and Seminary and School of Religion [leaders] to deliver next-level scholarship and teaching in a relatable way to help everyday Christians," Musselman said.
BJU faculty members such as Dr. Steve Pettit, BJU president; Dr. Alan Benson, the executive vice president for student development and ministry advancement; Dr. Gary Weier, provost and executive vice president for academic affairs; Dr. Sam Horn, a faculty member in the Division of Graduate Studies at BJU Seminary; and Dr. Neal Cushman, dean of the Seminary, have been featured on air.
Reaching pastors and churches nationally over the air, the Seminary wants to share their goals for BJU as well.
"We want to spread the word about the Seminary's 500x5x5 strategic vision and encourage as many people as possible with our thought leadership," Musselman said.
The 500x5x5 plan is the Seminary's goal to get 500 pastors trained in five years and every five years after the initial mark of 2021.
"My platform provides a way for them to [spread the word about the plan] outside their regular contacts," Noble said.
Theology Thursday began when Noble was a student at Southeastern Baptist Seminary working on a master's degree in ethics, theology and culture. He worked with the seminary faculty and leadership, but as seasons of life shifted, Noble found himself open to another seminary partner.
During this time, Stu Epperson, the founder and president of The Truth Network, which airs Noble's show, directed Noble toward BJU. Epperson, a BJU alumnus, asked Noble if he would host Benson on the show to discuss the Seminary's new 500x5x5 plan.
"Alan and I set up a phone call, and … we just hit it off," Noble said.
Although he himself had no prior affiliation with BJU, Noble visited the campus to see where the Lord would take the connections being made.
"And within six or seven weeks, we agreed that we would embark on the partnership," Noble said.
This partnership, starting with the first episode on Sept. 2, has sparked many conversations about current culture in the light of the Gospel and BJU's educational insight.
"[Topics include] everyday issues such as technology, purity and spiritual warfare," content specialist Musselman said.
These topics are selected through conversations between Noble and the Seminary.
"I'll let the seminary know I'd like to talk about critical race theory or the abortion issue or division in the church because of COVID and vaccines and masking, and [I ask] who would be good with that [topic]," Noble said. "So people there get to know the purpose of my show, which is really to make Christianity applicable to daily life and how you engage the hot topics of the day."
Once the topic is picked, the speakers go on air. Noble records and airs his Facebook Live from his out-of-state location while the Seminary works from its end in South Carolina.
Snyder, a Seminary staff member, is in charge of helping the faculty and leaders lend their voices to Theology Thursday.
"I am responsible for setting up camera equipment, audio equipment, organizing where our guest speaker is going to record that day and reserving a place and having it there," Snyder said.
Once these pieces are in place, Theology Thursday goes on air. People can find it at 4 p.m. EST on their local Truth Network radio station, Facebook Live feed and podcasts.
The BJU Seminary also provides resources on its Viewpoint blog to supplement the Theology Thursday discussions, which can be found at seminary.bju.edu/viewpoint-cats/blog/.
"Every week there is a corresponding viewpoint blog written by the same guest that was on The Steve Noble Show, so it's a corresponding topic or blog post that goes with his interview that day from the show, so those are some good resources," Snyder said.
Theology Thursday and the partnership, overall, have one main purpose.
"I can go get people that are great thought leaders, that your average Christian is never going to hear from," said Noble. "They're never going to sit in class. That's just not an option, so we're trying to bridge the gap between those two worlds."