Bob Jones University's newly inaugurated Center for Biblical Worldview seeks to unite faculty and students from all disciplines around biblical worldview principles through Gospel conversations, curriculum coordination and Q&A sessions.
The Center for Biblical Worldview will focus on helping faculty members and students integrate a biblical worldview into all aspects of campus life. Dr. Renton Rathbun, a faculty member in the Division of Biblical Studies and Theology in the School of Religion, is the director of the center.
Currently housed in Room 200 of the Alumni Building, the center  includes a bookshelf lined with worldview-related books and a table for group meetings.  "The whole focus for the Center for Biblical Worldview is collaboration with faculty and staff," Rathbun said. Collaboration, he said, is critical to finding innovative ideas and opportunities. "The best ideas for biblical worldview [come] from the faculty and staff," he said.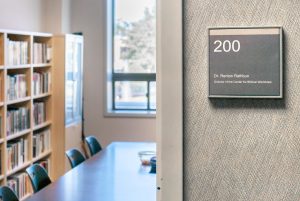 "Our mission is to support the faculty and staff by providing opportunities that will enable them to incorporate biblical worldview in the classroom, in their lives and in their mentoring work with the students," Rathbun said.
Before serving as director of the Center for Biblical Worldview, Rathbun spent 22 years teaching, primarily at the college level. He earned his bachelor's degree in English education; master's degrees in interpretive speech, creative writing, philosophy and theology; and a PhD in apologetics.
Rathbun said his diverse education helped prepare him to serve in the center. "All these weird degrees that seemed to make no sense at the time seem to culminate in this position to be the most effective I can," he said.
The Center for Biblical Worldview will also host opportunities for students to sharpen their worldviews. Rathbun, who teaches the undergraduate Apologetics & Worldview class, said he plans to create more apologetics-type opportunities for students outside of his class. For example, he hopes to plan evening Q&A   sessions to answer anonymous student questions.
The evening Q&A sessions would allow students to talk about topics not covered by their classes or that need more explanation than a class setting allows. "While [students are] thinking about their faith and wrestling with really hard ideas … they can feel free to ask whatever is truly troubling them or something they never really felt they got a good answer to," Rathbun said.
The sessions would be open to anyone. To gauge interest, Rathbun asked his class whether they would be willing to interrupt their evening and study time to attend such a forum. "I think almost every hand went up," Rathbun said.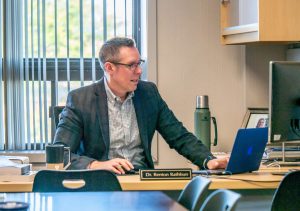 Rathbun is working with faculty to standardize a one-sentence definition of biblical worldview. Students writing papers that are graded on worldview can expect the same rubric criteria for biblical worldview elements, regardless of the class or discipline.
Other plans for the center include developing relationships with other local universities that can spark spiritual discussions. For example, BJU could invite students from a philosophy club at a secular university to discuss how different worldviews account for the problem of evil.
Rathbun said the center's goal is to embed a biblical worldview that reaches beyond people's minds into their hearts. "There has to be spiritual success in your hearts so that there is spiritual success in your biblical worldview," Rathbun said. "You can't fail inside your heart, in your Christian life, and then express to everyone what a good biblical worldview is."