Hundreds of alumni will soon return to Bob Jones University for the Homecoming & Family Weekend celebration, held Thursday, Oct. 7 – Saturday, Oct. 9. As in past years, this year's lineup features a concert, reunions, a game show, U.Day community events, picnics and sporting events.
Homecoming guests will be treated to an Artist Series concert conducted by Richard Kaufman, a decorated conductor from Los Angeles who has conducted for over 30 years with orchestras around the world. He will be presenting "Symphonic Hollywood: The Music of Lee Holdridge" in the FMA on Thursday. Holdridge is an Emmy Award-winning composer who has written a new piece specially for BJU to premiere in the concert.
Following the concert, an affinity reunion will be held in Rodeheaver Auditorium for any graduates or current students who have been involved in music at BJU. Both Kaufman and Holdridge plan to attend the reunion and visit with guests. "It's really, really awesome," Chelsea Fraser, director of Alumni Relations, said. "That evening is going to be really special for any of our music students and for any of our music grads."
On Friday, BJU will present its first Alumni Awards Ceremony. While BJU has previously recognized an alumnus of the year, this year is the first time they will have a formal alumni awards presentation at this level. "We're hoping that the students are really engaged and excited by it and also that alumni feel valued and really well served," Fraser said. The ceremony will take place in the FMA at 11 a.m. on Friday and will be webcast at bju.edu/live.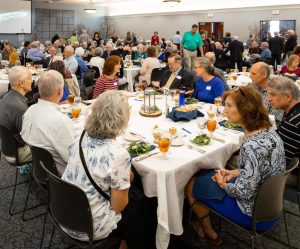 "The World's Most Unusual Game Show" will return live this year with new elements under the theme "What's My Line?" Aaron Burk, assistant men's director of Student Life and organizer of the game show, said the night will feature some well-known students, faculty and alumni. It will also be interspersed by commercial breaks featuring audience participation and prizes. 
"It'll be game show meets variety show," Burk said. 
"It's definitely being made with both students in mind and alumni, so it's not going to be something that students will want to miss," Fraser said. The show will take place live in Rodeheaver Auditorium at 8 p.m. on Friday.
On Saturday, thousands of guests are expected to attend U.Day, BJU's educational street fair featuring games, music, food, face painting, science experiments, story presentations and other activities from 10 a.m. to 1:30 p.m. "Their goal is to build bridges with people in the community," Pam Cushman, the director of Events Management, said. "It's just a wonderful chance for the community to come … and just have a great time."
Nearly 300 volunteers will be needed to oversee the various U.Day events. "I think it's a wonderful time to see faculty and staff and students interact at a different level than a formal classroom," Cushman said. "Everybody works together to get the job done, and I have had many visitors comment on the camaraderie and the atmosphere."
Saturday will also feature the M&G Makers Market on the second floor of the Welcome Center, an event for BJU alumni to share their creations. The market will feature curated items, including handmade cards, pottery, illustrations, watercolor and acrylic paintings, jewelry, fiber art, woodworking, calligraphy and gourmet popcorn.  "It's a great way for us to be able to support both our alumni and our community and our local makers," Fraser said.
Homecoming weekend will conclude with the Bruin BBQ Bash for alumni in the activity center and a picnic for students on the lower athletic fields at 5:30 p.m. followed by a Bruins men's soccer game.
Fraser also emphasized that students are free to plan other celebrations during Homecoming. "There are plenty of opportunities to make your own fun during homecoming on campus as part of the excitement and the energy in the community," she said.
A full schedule of Homecoming events is available at homecoming.bju.edu/schedule.