Bob Jones University students are praying for the future of Haiti as the nation has been crippled by multiple catastrophies that climaxed with destruction caused by a 7.2 magnitude earthquake and a tropical storm in the month of August.
Dr. Mark Vowels, chair of the division of ministries, shared that Haiti has long been a troubled nation. "Haiti seems at times to be cursed," he said. "Hurricanes, earthquakes and political turmoil are frequent realities there."
The small Caribbean nation was shaken on Aug. 14 as the unexpected earthquake robbed many Haitians of their homes or lives. The death toll surpassed two thousand.
Tropical Storm Grace followed the earthquake, further damaging the nation only two days later. It caused more landslides, property damage and flooding as many homeless Haitians were still mourning the dead.
Beyheena Eliacin, a BJU sophomore international studies major from Haiti, is shocked by the stories of death coming from her home country.
"I heard a story about a hotel in Haiti," she said. "The hotel collapsed during a big business conference, and all the cars remained in the parking lot for days. All the owners were dead. The rows of cars were not going anywhere."
All this destruction comes on the heels of a year of political chaos in Haiti, including the COVID-19 pandemic, the assassination of President Jovenel Moise and a wave of gang activity.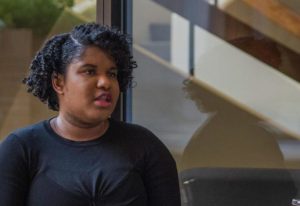 BJU senior nutrition major Lyndie Coulanges, who hails from Haiti, expressed concern for her home nation.
"There was a lot of structural damage to many homes," she said. "I think the earthquake exasperated the political situation that was already happening in Haiti."
"The government, it's really shaky because they're still figuring out what to do next with us," she said.
"There's not a clear answer after the president has passed," she said. "So now, who's going to take control of Haiti? We don't know. Is it the police, or is it the government itself?"
Eliacin said the political events in Haiti have left many people feeling unsafe, including her own family.
"People don't feel safe right now. When my mom goes to work, she never goes by herself anymore," she said. "My dad has to drive with her now to protect her. The events this year really changed her lifestyle."
Coulanges believes gang rule is a major issue. "Even if you want to bring help to people … if the gangs don't want you to go in, they block the roads and tell you no if you arrive on a bus," she said.
It is estimated that one-fifth of the population now lives on gang-controlled land.
We know that God orchestrates the events, even the calamities, of life for His greater purpose.

—Dr. Vowels
Coulanges, however, remains positive about the future of the country. "Haiti is a resilient nation," she said. "I think we had a lot of things coming toward us, but still we were always a joyful and hopeful people. I am optimistic of the future."
"One thing I did see in 2010 when the first earthquake happened, there was a revival after that," Coulanges said. "A lot of people came to Christ."
She believes natural disasters remind Christians of where they truly belong. "I'm not home here [at BJU] ultimately," she said. "I'm not home in Haiti . . . my home is in heaven."
Vowels echoed this sentiment. "We know that God orchestrates the events, even the calamities, of life for His greater purpose."
"We should pray that through suffering the people of Haiti will seek the favor of their Creator and cast themselves upon His eternal care for temporal deliverance and eternal salvation," he said.