Americans were held in suspense on election night as the ballots rolled in with a constant give-and-take for the presidential candidates.
As of press time for this issue of The Collegian, it is possible that some states not finalized for either candidate may come within the threshold of a close vote margin, which could trigger a recount of all ballots, or other legal challenges may be brought in key battleground states.
Pre-election polling favored former Vice President Joe Biden nationally and in key battleground states such as Pennsylvania, Michigan and Wisconsin. But as in 2016, the actual results in many states did not match the pre-election polling data, confirming many voters' uncertainties about the predictability of the results.
The race on Election Day was a constant game of speculation, and both Trump and Biden made remarks as results continued to roll in throughout the evening and into the next day.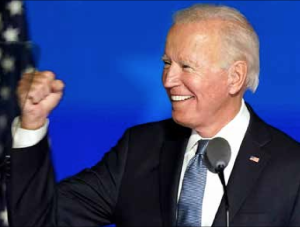 Despite tweeting "A big WIN!" early evening on Nov. 3, Trump tweeted again in the early morning Nov. 4 with a comment on votes being stolen, which caused media to postulate that he was concerned he was losing.
Biden made a confident statement in person at a Delaware election watch party, commending the patience of his supporters. "We believe we're on track to win this election," Biden said.
News stations continued to cover the results well into the early hours of Nov. 4, including an official statement by Trump in the White House about 2:30 a.m., hours after Biden's statement.
We feel good about where we are, we really do. And it ain't over until every vote is counted. —Biden
"This is without question the latest news conference I have ever had," Trump said, provoking a chuckle from his audience that included his personal family. Trump confidently claimed leading the election with large margins, a speculation immediately criticized by the media as being far too early to call because of the large number of remaining uncounted ballots.
"It's not my place or Donald Trump's place to declare who's won this election," Biden had said in his statement. "That's the decision of the American people."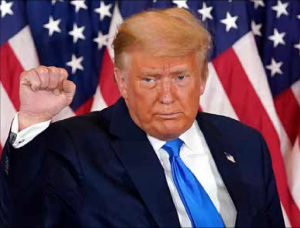 Despite criticism invoked by the early call, Trump's steady lead provoked positive comments from NBC News political director Chuck Todd. "Even if [Trump] loses here, there is strength in his performance tonight," Todd said. "He may be a one-term president, but you know what he's not? A humiliated leader of the Republican party."
This election season adds on to a historically uncertain year already impacted by the COVID-19 pandemic, nationwide protests over race relations and an economic recession.
The presidential election season dramatically highlighted the differences between Trump's and Biden's dispositions. Trump's overpowering style was brought out during the first presidential debate in which both candidates aggressively interrupted each other. Biden responded in turn, causing many commentators and voters to feel disappointed by the lack of civil discourse during the event.
Trump became infected with COVID-19 in October, causing the second debate to be canceled. Both candidates moderated their tone during the last presidential debate.
The citizens of this country have come out in record numbers . . . to support our incredible movement. —Trump
During the COVID-19 lockdowns, Biden canceled most in-person rallies and migrated to a virtual campaign. Trump largely campaigned in his usual style, drawing large crowds to his events. These habits were reflected again election night as Biden held an outdoor, socially distanced rally with people remaining with their vehicles, and Trump held an indoor event with privately-invited unmasked attendees who were required to take COVID-19 tests.
99.7 million people voted early or by mail, nearly three-quarters more than in the 2016 election. Early votes were in large part prompted by COVID-19 precautions, but millions still chose to vote in person.
Both the candidates crisscrossed the country during the final days of the campaign to persuade voters in key swing states.
Former President Barack Obama joined Biden to campaign in Flint, Michigan. "[Biden] has got the character and the experience to make us a better country," Obama said. "And he and Kamala [Harris] are going to be in the fight, not for themselves, but for every single one of us. And we sure can't say that about the president we have got right now."
First Lady Melania Trump campaigned in Pennsylvania for her husband. "Donald loves helping people and seeing those around him and his country succeed," Melania Trump said, "but when he decided to run for the president as a Republican, the media decided to create a different picture of my husband—one I don't recognize."
Part of Biden's campaign was echoing calls for police reform to address "systemic racism" after national protests for racial justice reform erupted from the murder of George Floyd. Biden also selected Kamala Harris, 56, as his running mate. Harris' mother is ethnically Indian and her father is Jamaican, making Harris the first woman of color to run for vice president.
Harris also ran for the 2020 Democratic presidential nomination, ending her campaign on Dec. 3, 2019. During the primary season, Harris, a former prosecutor, fiercely attacked Biden's record on race. However, the two candidates apparently mended relations for their current run together.
Linda Abrams, a faculty member in the Division of History, Government and Social Science, said that although politics is a very consuming discipline, it should not divide the body of Christ.
"Our testimony to other Christians [and] to unbelievers is not worth ruining over a political election that God is in control of," Abrams said. "We can disagree, but our testimonies with each other should not be sullied over a political election," Abrams said God has a plan in which all things will ultimately glorify Christ.
"We have to think about the ultimate issue: being one in Christ with our brothers and sisters in Christ," Abrams said.
South Carolina voted Republican in the presidential election, including Greenville and surrounding counties. State elections revealed Republican Lindsay Graham to have held his seat in the Senate with a strong lead over Democrat Jaime Harrison.
Incumbent Republican William Timmons won in the general election for U.S. House South Carolina District 4, beating out Democrat Kim Nelson.
For the most recent presidential election update, check collegianonline.com.