Oct. 8 marks a historic event for BJU. The first-ever virtual Artist Series, "What Makes it Great?" featuring Rob Kapilow, a composer, conductor and music commentator, will be live-streamed in venues across campus.
This one-night event consists of a program in which Kapilow explains a piece of music, drawing out the details and intricacies of it, in order for the audience to gain an understanding and appreciation of the piece. Kapilow said after a thorough explanation of each piece, the audience then gets to listen to the piece with new ears and new minds.
For this event, Kapilow is working with the Horszowski Trio, a cellist, pianist and violinist who perform Beethoven's Archduke Trio. This piece, written at the time of Beethoven's self-isolation due to his deafness, communicates unity and connectedness—themes related to this current time of pandemic. Kapilow said, "What did this old composer have to teach us in this moment of pandemic?" While Beethoven was separated from people, Kapilow said, "Ironically . . . he wrote music that was all about how to connect people."
This program is for everyone, from those with years of music experience and training to those who hate classical music, Kapilow said. In fact, Kapilow actually targets this antagonistic audience as it is often his favorite audience.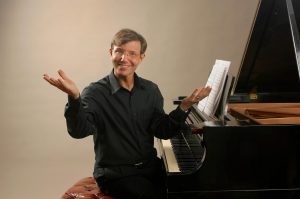 No matter a person's depth of musical knowledge, the performance should be enlightening and engaging. "I try to design the program so that it is interesting for the professors, the performers on the stage and a person who has never heard a note of music— that it should be equally interesting to all of them," Kapilow said.
This year's event is similar to another in-person program Kapilow performed for BJU several years ago. Dr. Darren Lawson, the dean of the School of Fine Arts and Communication, describes Rob Kapilow's program as one of the most well-received Artist Series BJU has hosted. Many things worked together in order for this virtual performance to become a reality. The artist previously booked for the Oct. 8 Artist Series was from California and had to cancel due to uncertainty about travel and the campus regulations on visiting artists. Kapilow's managers reached out to BJU about a virtual program, however, and Lawson said, "I thought . . .this is a great way to reconnect with Rob Kapilow and do it in a way that meets our physical distancing requirements."
While the options were to cancel Artist Series completely or provide a virtual alternative, Lawson said, "I felt like this was a good compromise between having the live program versus not having anything at all." Though Kapilow cannot be on the campus in-person, he is an engaging speaker, Lawson said. At the end of the program, students will have the opportunity to ask Kapilow questions about the piece and the performance.
While this program is not open to the public, efforts towards a pay-per-view webcast are in progress. Lawson said, "Just because you're isolated doesn't mean that you can't be creative or engaged."