For many BJU faculty members, the holiday season not only gives them the opportunity to outfit their homes with the standard Christmas trees and stockings, but it also allows them the chance to decorate with a specific purpose in mind: to reflect the true meaning of Christmas.
In addition to a traditional Christmas tree, Dr. Ed Dunbar, who is the chairman of the Division of Music, sets up a "Names of Christ" tree with his family every year. The tree's "ornaments" look like scrolls hung from hangers that are shaped like ropes.
The names on the tree are from the Old and New Testaments and include Emmanuel, Messiah, Consolation of Israel, Bright and Morning Star, Prince of Peace, Pearl of Great Price and Lily of the Valley. A scriptural reference is displayed along with each name.
Dr. Dunbar and his wife incorporated their unique tree into their family devotions during the holidays while their children were still at home. One child would choose a name from the tree, and Dr. Dunbar would read several verses from the chapter referenced on the ornament.
"It was a good way to remind [our children] of what we have in Christ," Dr. Dunbar said. "We always talked about attributes associated with that [name] from Scripture."
On a larger scale, Dr. Dave Fisher, the provost for BJU, sets up a life-sized nativity scene each holiday season in front of his home from Thanksgiving until New Year's.
The tradition began more than 60 years ago when Dr. Fisher's father, Mr. Gene Fisher, who is retired from the university history faculty, built a wooden manger scene completely from scratch. He began by tracing silhouettes of character patterns onto pieces of plywood and then cut them into their respective shapes. Then he followed premade patterns to paint each character according to his or her clothing and features. Finally, Mr. Fisher's father mounted the finished figures on stakes and set them up in his yard.
Joseph stands next to Mary, who is holding baby Jesus. There are also the three wise men, a shepherd and sheep.
The scene is a favorite in his community, with everyone who passes by on East North Street each Christmas being reminded of the true message of the season.
Another faculty member who collects and displays nativity scenes each Christmas is Mrs. Gloria Eoute of the nursing faculty. She owns more than 50 items that portray nativity scenes. These items range from beverage coasters to afghans and from music boxes to snow globes.
Mrs. Eoute said her interest in nativity scenes began when she was a little girl. During her childhood in Pennsylvania, she lived across the street from a church that had a live nativity scene that was illuminated nightly.
The first Christmas she and her husband were married, her mother gave them their first nativity scene, and Mrs. Eoute has added a couple of sets to her collection every year since then.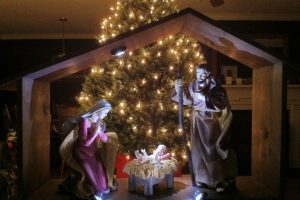 Inside their home, Mrs. Eoute and her husband display their largest nativity scene in a large front window. The scene contains a rectangular wooden panel about 21 inches high as well as plaster sculptures of Jesus, Mary and Joseph inside the panel. The family Christmas tree stands behind the scene, and a light underneath the panel illuminates it for viewers outside.
"The reason I love nativity scenes so much is they portray what Christmas is really all about, and it helps me to focus and share it with my family," Mrs. Eoute said. "They're also a good way to pass on your Christian values to your children through the way you decorate."
Mrs. Michelle Radford of the art faculty is working more deliberately on her holiday decorating this year. Last holiday season, her twin sons were only several weeks old, so the family's decorations were minimal. Now that her twins are older, she and her husband, Mr. Paul Radford of the dramatic arts faculty, are decorating more this year.
The Radfords faced the challenge of keeping their Christmas tree out of reach from their now 1-year-old twins. They rearranged furniture, moving their round dining room table into the living room. The vaulted ceiling in their home allowed enough room to place the tree on top of the table.
Mrs. Radford said her favorite decorations are the old ornaments she crafted when she was a child. "I'm horribly attached to them," she said.