A taste of Italy can be found in Downtown Greenville at the Luna Rosa Gelato Café. Located on West Washington off Main Street, Luna Rosa is a family-owned and -operated café that offers fresh, quality food.
There's a reason tripadvisor.com has named this café Greenville's No. 1 restaurant for three consecutive years.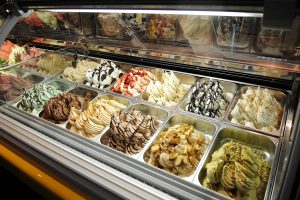 Luna Rosa has a casual and colorful atmosphere. Jose Ortiz, the manager of the Luna Rosa Gelato Café, said the café portrays a European theme so customers can experience what a real Italian gelato café would be like. Luna Rosa has tables and chairs inside and outside the restaurant for customers to sit and enjoy their meal and gelato.
Luna Rosa offers a full menu that consists of soup, salad, paninis, pizza and pasta. Ortiz said everything at the café is made from scratch—nothing is boxed or prepackaged. The ingredients at Luna Rosa are fresh.  They do their own shopping at fresh markets to get the best ingredients for their soups, like their roasted tomato and eggplant bisque topped with feta cheese. They also serve cappuccino and espresso. An entire meal at Luna Rosa will cost around $15.
Luna Rosa is well known for its gelato, an Italian-style ice cream with one-third less butter fat than regular ice cream. Gelato is also creamier than regular ice cream because less air is incorporated into it. Luna Rosa makes all of its gelato right at the café. Ortiz said the most popular gelato is chocolate velvet. Other tempting flavors include strawberry shortcake, peanut butter cookie and caramel-by-the-sea. The flavors change often in order to provide customers a wide selection to taste and enjoy. Customers can sample flavors before choosing which one they would like to purchase.
Luna Rosa is open every day and serves dinner on Thursdays, Fridays and Saturdays.