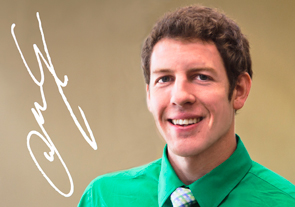 "Down … set … hike!" barked the gruff voice of my grandfather as I sprang away from the old shoe serving as the line of scrimmage. It was fourth and long, but more importantly, it was fourth and dinner.
My mom had long since warned us of the repercussions of being late to Thanksgiving dinner (namely that the sweet potato casserole would be gone—you know, the kind with brown sugar and marshmallows on it), but the game had to reach a definitive end. There just had to be a winner. After all, football does provide a sense of national unity at Thanksgiving: it's the tie that binds, the common denominator, the default escape tactic for avoiding another cheek-pinch by an overly affectionate Aunt Maru.
Please understand, football is far from my only Thanksgiving memory. I could always sit around the table and share things for which I was thankful with the best of them, and my family took pictures on Turkey Day just like everyone else.
I distinctly remember one Thanksgiving when my family was hosting all the relatives. We had all congregated for a photo in front of a particularly beautiful tree, spent the necessary three hours lining ourselves up properly and taken enough shots to make our cheeks hurt from smiling.
Just as soon as we had printed the photos and said goodbye to the relatives, my 10-year-old brother emerged from the basement. He had been playing GameCube and had missed the picture entirely. Better yet, none of us loving family members had even noticed (good thing there's always next year). The fact that my "little" brother in that story is now 6 feet 6 inches tall and a high school junior makes it even more absurd: we don't have the option of overlooking him in family portraits anymore.
I've also been told that when I was three, I shushed an entire roomful of extended family and proceeded to say the Thanksgiving Day grace for our food. On and on I went for a good five minutes.
I guess no one wanted to be the Scrooge in the room who told Little Adam that he should probably wait until he was older to say the official Thanksgiving blessing. After all, I had a lot to be thankful for—there were no basement stairs for me to fall down, there was no need to cry since I was already the center of attention and I had long since graduated from safety pin diapers.
I always come back to football though. It has ineffaceably ingrained itself into American Thanksgiving culture, and I, being an American, love it just as much as the next person.
The NFL has worked out its Thanksgiving Day schedule perfectly this year: the Lions play at 12:30 p.m., right around the time when I will be eating dinner (that way I have to give only half of my attention to the annual Joke Bowl).
Then the Cowboys take on the Redskins at 4:15 p.m. There's nothing quite like being soothed into my post-meal coma by America's boy Tony Romo lumbering around the pocket.
Finally, just in time to put me back into a good mood after realizing that the leftovers are already gone, the Patriots will play some decent football at 8:20 p.m. Ok, ok, who cares if they're playing the Jets? As long as you find Rex Ryan as entertaining as I do and don't mind watching five Tim Tebow montages, this game could be fun to watch.
However, our own family football games are always the best. And I did end up scoring that touchdown, by the way. I raced across the yard, jumping over bicycles and leaf rakes, and hauled Papa's pass in just short of the two bushes acting as an end zone. And I, Randy Moss at the time, stumbled into that end zone clutching a Nerf football and dragging two little brothers desperately clinging to my legs.
The crowd went wild. And Thanksgiving dinner had never tasted so good.