This past Christmas Eve, a 4-year-old autistic boy went missing at his grandparents' house in Little Rock, South Carolina. Three days later, his body was found in a lake behind his grandparents' house where he had drowned.
Scenarios like this are not uncommon. In 2009, 2010 and 2011, accidental drowning from wandering and eloping accounted for 91 percent of the total U.S. deaths reported in children with an autism spectrum disorder (ASD) ages 14 and younger, according to nationalautismassociation.org.
To help counteract such dangers, Julie Nye, a BJU graduate, co-founded Dogs for Autism (DFA) in Greenville to train dogs to protect autistic children.
Three members of the BJU family are currently volunteering with DFA to train dogs to help guide and protect more autistic children: Dr. Mark Parker and his wife Joan, both faculty members in the Division of Music, as well as Rebecca Renner, a senior biblical counseling major.                                                                                                                                              
RENNER CONNECTS WITH DFA
Renner, who received her dog, UMA,  April 13, said even when she was in a crib, her favorite stuffed animal was a dog. "I was born with a love for dogs, and I always wanted to work with dogs, but I never thought it could be a career," Renner said.
Renner's opinion changed when she had a deaf baby sitter who had a hearing assist dog that saved her life twice: once when she was about to drive across the railroad tracks because the "No Crossing" sign wasn't working, but her dog alerted her; and another time when she was in a store and her dog heard the beeping of a fork lift behind her and alerted her to that as well. "Basically he gave her her hearing, and I saw the importance of what a service dog can do," Renner said.
This past January, after much prayer, Renner reached out to Vested Partners (VP), the parent company of DFA, and, after going to training classes with the Parkers for a few months, she received her dog, UMA, in mid-April. UMA goes everywhere with Renner, from classes to chapel to the dining common to the residence halls, where she sleeps in a crate next to Renner's bed in Margaret Mack 205. "It's been an adjustment, but it's been a lot of fun," Renner said.
Renner said the packed situations on a college campus, particularly during AACS week, are good for two reasons: UMA has opportunities to learn to focus in chaotic situations, and Renner has a chance to spread awareness about DFA. "People stop me everywhere and ask all types of questions," Renner said. "Some are obscure, but most of the time I just get to talk about the organization and the importance of [UMA's] job."
BREEDING AND TRAINING AT DFA
The DFA dogs have been selectively bred to pass on certain characteristics, Mrs. Parker said. In fact, the characteristics are bred so carefully now that more dogs from each litter are capable of being autistic guide dogs than when they started in 1991. "You can't necessarily control what you get, but when you get something good, then you try to favor that in breeding and pass it on," Dr. Parker said.
UMA and the Parkers' dog, ULA, are both from the same "U" litter of 10 German Shepherds that were born a little under two years ago and all have a name that starts with the letter "U." The DFA has gone through the alphabet with this naming method as a means of tracking the members of the different litters.
At five and seven weeks, UMA, ULA and the other dogs were tested for certain characteristics and sent to their designated place—whether that be DFA, blind training, the Guide Dog Foundation, search and rescue or police academy—based on those characteristics.
Once the puppies arrive at the DFA they are assigned a volunteer who will take them home and provide 24/7 basic training, as well as take them to professional training once a week with VP Training Director Darlene Houlihan, who teaches them to "alert, block and search." Once the dog receives enough training, it will be assigned to a family and go through a week of intensive training with Houlihan and the family based on their autistic child's specific needs.
Dr. Parker said basic training involves different exercises that help train the dog's mind to focus and think about the process at hand.
For example, Mrs. Parker said she plays "Find the [insert object]" with ULA, which will later translate into "Find [insert child's name]."
Renner said she will help UMA learn to block by having a friend run toward the street and letting UMA block her, in imitation of an autistic child running toward traffic.
The commands the dogs obey are often in German or involve hand signals to prevent confusion. The German distinguishes the commands for the dog versus the commands for the child since parents often tell an autistic child to "sit" or "come." The hand signals allow a child who is not verbally strong to learn the hand signals, and they allow the parents to command the dog in loud and chaotic situations.
While the early morning walks and the daily training can sometimes be tiring, Dr. Parker said the benefits are more than worth his time. "ULA will make a fabulous companion to an autistic child," he said. "And that's what makes us willing to give her up. You always get attached to dogs, but the rewards are so worth it."
THE NEED FOR DFA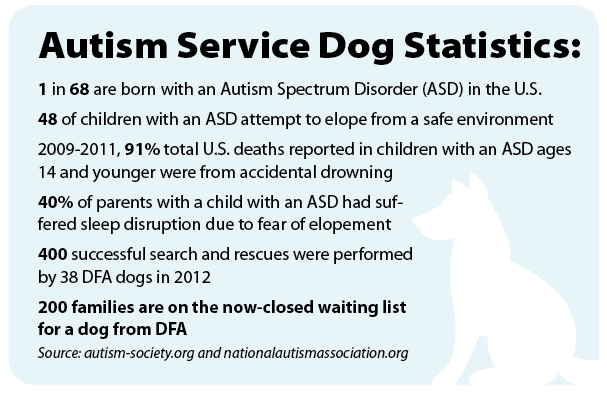 DFA began after a mother was at the grocery store with her two children and her 4-year-old, who is autistic, started to run away. The mother had to set her 4-month-old down on the pavement to run after the autistic child and, afterward she said, "Something has to be done."
"Dogs are so important for families because it's another set of eyes and ears and, in this case, paws," Mrs. Parker said. She said she remembers one family who said the first night they had their DFA dog was the first night they slept through the night, as their child usually wandered and escaped from the house in the middle of the night.
Furthermore, 90 percent of parents with an autistic child end up getting a divorce, leaving a single parent to raise the child, Nye said. "These dogs allow them to function more fully as a single parent," Nye said.
An unofficial DFA survey in 2012 showed that 400 successful search-and-rescues have been completed by 38 grad dogs. Unfortunately, because of a lack of funds, 200 families do not have this extra protection as they are on the DFA waiting list.
"We do have the logistical ability, the breeding stock and the expertise to produce many more service dogs than we currently do," Nye wrote on the DFA Facebook page. "What we don't have is the funding to hire the staff required for expansion."
The Parkers said volunteering with the DFA has given them the opportunity to get out of their bubble and meet with unbelievers in an area of common interest who they never would have had contact with otherwise. "It's all about serving others and showing them in a small way what Jesus Christ is like," Dr. Parker said.
For more information, email [email protected]. Please note: you are not allowed to pet UMA or ULA while they are working because that will distract them from their job.