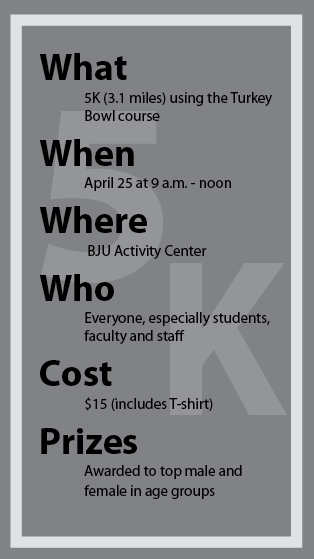 What better way is there to get rid of some stress, or perhaps some unwanted calories from stress-eating, than running a 5K?
And you'll have the perfect opportunity to do so April 25 at 9 a.m.
The Student Leadership Council and Bruins Cross Country team are hosting a Run the Race 5K that will begin at the Activity Center and follow the same course as the Turkey Bowl Run. The cost is $15 and covers a Run the Race T-shirt, participation in the race itself and light refreshments at the end.
Abbe Mitchell, women's SLC event coordinator, said this race is not just for experienced runners. "Even if you aren't really a runner, come out and do it," Mitchell said.
The race is modeled after this semester's chapel theme and discipleship group Bible study that has emphasized staying the course, persevering to the end and, finally, finishing the race. According to Mitchell, that is the goal of this race—to finish.
Mitchell said she is looking forward to seeing the students, alumni, community members, faculty and staff cross the finish line and celebrate with their friends.
"It's one last fun thing for everyone to do together," Mitchell said.
Rachel Wilson, a junior exercise science major, has been leading a fitness class this semester to prepare runners for a 5K and recommends that you stick with the running routine that has worked for you so far, rather than trying something new on race day.
Wilson said she has enjoyed teaching the class because she loves the happiness-inducing effects of the endorphins that come after a good run.
"I definitely don't always love how I feel when I'm running," Wilson said, "but I do love the feeling of accomplishment that comes after a hard run when your body's spent, but the rest of you is energetic."
The race will be timed, and results and rankings will be sent out to all the runners. You can sign up for the race online at eventsignup.org.