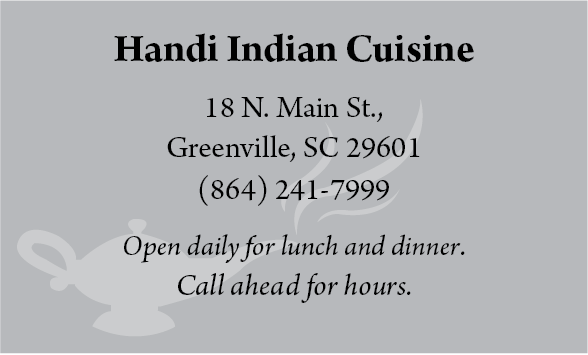 Nestled in the heart of Main Street in downtown Greenville, Handi offers fine Indian cuisine for hungry and adventurous passersby.
Named for an Indian word meaning a round, earthen cooking pot, Handi was established in 2007 by Sukhdev Bhanot and his family. Their goal was to introduce authentic Indian food to Greenville, and so they have.
The moment you walk through Handi's doors, the scent of rich, bold curry and cumin captivates your nose, and the amber glow of the lights above adds ambience to the cherry-stained chairs, crisp white tablecloths and water goblets below. Along the rustic brick walls hangs artwork from the Indian culture, adding authenticity to the atmosphere.
Handi's food choices are quite extensive, with a lunch buffet seven days a week, as well as a menu for lunch and dinner that boasts 74 entrees!
Prices range from $10 to $20 and choices range from chicken tikka masala (chicken breast roasted in a clay oven, then simmered in a tomato-cream sauce) to lobster malai khasa (lobster cooked in tomato and ginger-garlic cream with coconut). Vegetarian, lamb and goat entrees are available as well.
And don't worry if you aren't a fan of spicy foods. "It's only spicy if you ask for it," Bhanot said, referring to their policy to ask guests their preferred level of spiciness while taking their order.
To finish off your meal, order some kulfi (an authentic Indian ice cream made with milk and nuts) or some kheer (a type of rice pudding).
Handi is open seven days a week for lunch and dinner, so grab a friend and opt out of your traditional Chick-fil-A or Chipotle trip to try out some traditional Indian dishes.