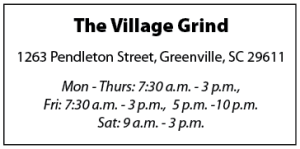 Tucked away in the heart of Greenville's art district is The Village Grind, a coffee shop that opened its rustic doors Jan. 16.
Lindsey George, one of the owners, said opening a coffee shop has always been a dream of hers. After working several jobs to save money, she found co-owners in her friend Jim Bolt and his college roommate, Carl Chambers. All they needed was a building, and that too fell into place as a manager of a nearby store told George about the building on Pendleton Street that would soon become The Village Grind.The time was just right, as there was no other coffee shop in that part of town.
The Village Grind uses all local products for its drinks.
"We're just trying to use the sources available to us here," George said.
George's brother, Alex George, is a chef in Greenville, and he makes all of the flavored syrups for the coffee, which is purchased from Due South Coffee, George said. Along with local coffee, The Village Grind also uses local dairy products. Even the ceramic coffee mugs were made by a potter in Greenville.
The purpose of the coffee shop, George said, is to help grow the community.
"Now we want to be a place where people can meet and bring new people to the village," George said. "They find out about all the artists down here and all the businesses and just really grow this place."
George said she hopes the shop will help bring business into a part of Greenville that seems to be forgotten. The coffee shop is located near the Greenville Journal, and George said she and her co-owners felt it was a good location, especially with the many galleries nearby.
George said she was overwhelmed by the support everyone has shown since the shop opened, and, even from the outside, it's easy to see why the shop, though small, is very welcoming. The red brick and chic décor make for a comfortable and inspiring environment.
George's favorite drink is the Lavender Mocha. Her brother makes the lavender flavor from the oils of the lavender flower, and she says it has been a customer favorite. The drinks are on the pricier side, but remain under $5, and the rich, succulent flavors are well worth it.