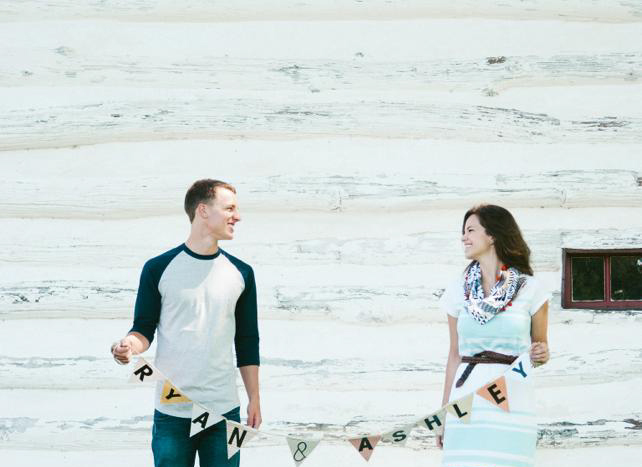 Ashley Greenfield & Ryan Fisher
The number of times Ashley has told this story? "I would say over 30."
Ashley Greenfield and Ryan Fisher met through mutual friends during her sophomore year and his junior year here at BJU. This past summer, an unsuspecting Ashley went to visit Ryan in Philadelphia for a casual rendezvous, not knowing she would come back with a little extra weight on her left hand. "It was the farthest thing from my mind," Ashley said.
But it was pretty close in Ryan's mind. The morning of Aug. 1, Ryan told Ashley to sleep in and take it easy while he went to work. "I felt so pampered," Ashley said. That afternoon they went shopping and ate at their favorite place: Chipotle.
So far, the day was normal.
But as they were driving back to the house at dusk — Ashley's favorite part of the day — Ryan casually said, "Oh, I forgot to tell you about this old bridge up here." Ashley immediately begged him to stop at the bridge. As a photographer and graphic design major, Ashley's creative instincts weren't going to let her pass up an old bridge at dusk.
"Ryan kept playing it cool, saying, 'I think it's up here,'" Ashley said. "But he knew." Ashley had taken the bait, and now Ryan's job had become sufficiently easier.
As they walked up the hill to the bridge, Ashley was enamored with the scenery. "I was like, 'Look at that little tree! Look at that moss!' — just completely oblivious," Ashley said. Then, at the top of the hill, they pulled back a branch and a postcard-worthy scene unfolded before their eyes: an old trestle bridge, painted with the colors of the sunset. "My artistic mind was freaking out," Ashley said.
Ryan snapped a picture of Ashley and started to walk toward her for approval. But, suddenly, he bent down and picked up an old instamatic camera lying under a rock, pretending he had just found it. Ashley fell for it. "I was like, 'Oh my goodness, you just found a camera!'" Ashley said. Ryan snapped a picture with the camera. It worked. He told her to check for film inside. But this time Ashley didn't take the bait. "No, I can't, because if there's film inside it will be overexposed," she said. Somehow Ryan convinced the photographer to take the risk, and she opened the camera to find a picture of them that had 'Will you marry me?' written on it.
When she looked up, he was already on one knee. He popped the question, and she said yes! "It was really the best proposal I could have asked for," Ashley said with a glowing smile. "He knows me so well. It was perfect."
The wedding will take place on July 19 at Crystal Brook Farm in Ohio.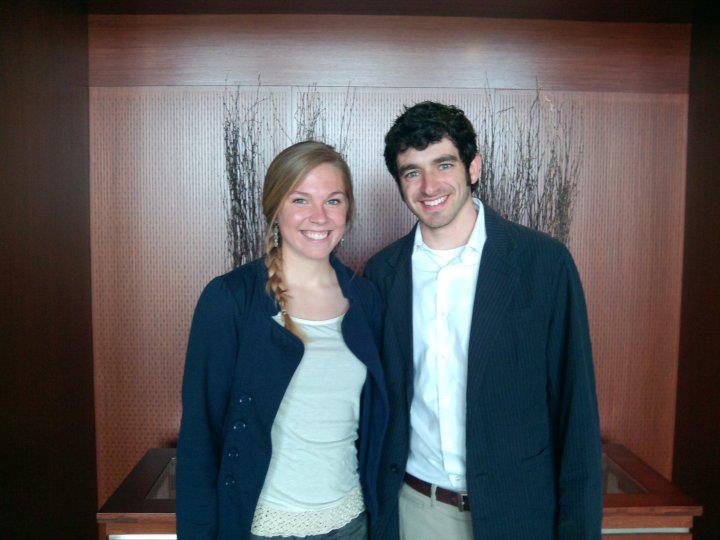 Danielle Polhamus & Andy Sheldon
The number of times Danielle has told this story? "I would say 38."
The number of times Andy has told this story? "I think more like 15."
Danielle and Andy were fellow students at BJU, but they didn't meet until the summer of 2011 in Alaska. He was on a missions trip, and she was working at Higher Ground Baptist Bible Camp. Their friendship grew over the following years, and this past Christmas Danielle received a late Christmas gift from Andy.
Their story starts a few days after Christmas when Danielle and her family were visiting her brother, David, and his wife, Stephanie, in Colorado. Andy said that he would fly into Colorado on Saturday, Dec. 28, to join them. However, Andy actually flew into Colorado a day early on Friday, Dec. 27. He then went to check out a beautiful lookout in Mount Falcon Park that David, his trusty wingman, had found for him.
Meanwhile, David had convinced Danielle and his parents to go on the hike that led to the designated lookout around lunchtime on Saturday. However, Saturday morning Danielle woke up feeling sick. But David, ever the trusty wingman, said, "Let's take Advil and go! Come on, let's go!"
So Danielle gave in, but she texted Andy to let off some steam. "I was texting him like, 'I have to go on this stupid hike today,'" Danielle said. But Andy kept up the facade. "I asked her what hike it was, and then I said, 'Is that a mountain or a creek?'"
But Andy was already at the lookout. At one point a lone hiker and his black lab came across the 'secret' spot, and Andy said, "Um, I'm about to propose, can you go somewhere else for a while?" Andy then marked off his territory with orange cones to prevent further incidents.
Finally, Danielle appeared on the trail. "What are you doing here?" Danielle asked in shock. "You know, just surprising you," Andy said.
"At that point, I was like, 'This is the engagement. I can't believe this is happening!'" Danielle said.
Andy sat her down on a boulder, wrapped her in a blanket, and played her a song on his guitar. Although he wrote the song for Danielle, Andy isn't sure how meaningful the lyrics were the first time she heard them. "The whole time she was looking at me with this blank stare — just in a trance — and I could just tell she wasn't listening," Andy said. Danielle laughed and confirmed this, saying, "Every once in a while I would catch a word like, 'love,' 'marriage' and 'forever.'" She got what she needed.
He then presented the ring and recited his speech. "Again I don't think she heard a word," Andy laughed. But a ring is worth a thousand words, and Danielle said yes!
Looking back over that special day, Andy says he has God to thank, even for the free carriage ride at the restaurant that night. "We got in the carriage, and everything was perfectly snow-covered in this little old town with all these Christmas lights up," Andy said. "I was thinking 'I could never do this.' It was a perfect gift from God."
The wedding will take place on Aug. 8 in Greenville, S.C.
Suzanna Gregory & Steven Andronovich 
The number of times Suzanna has told this story? "Probably like 30 or 40."
Suzanna and Steven met at the freshman picnic during their first week of school and started dating in the second semester of their sophomore year. This past summer they picked out the wedding date — Aug. 1 — but the ring didn't come until the holidays.
Suzanna lives on the other side of the country in Sacramento, Calif., so she knew that she would only have a few opportunities to go dress-shopping and do normal wedding-planning duties with her mom in time for their Aug. 1 wedding. She needed the engagement to come quickly.
But, the semester slowly crept by. Thanksgiving came. Her sister got engaged. And then it was December.
Suzanna went home to Sacramento slightly let down. But, her first day of break she decided to help her brother's friend, Robert, take the engagement pictures for her sister. At first Suzanna just got "halfway ready." "It's always the most important days of my life that I don't want to get ready," Suzanna said. But, thankfully, Robert said that he usually takes pictures of everyone on set, so she went and got "full ready."
Meanwhile, Steven was at the Charlotte, N.C., airport trying to make it to Sacramento by 4:30 p.m. He finally got on his first flight — two hours later. As soon as the plane landed, he ran to catch his connecting flight, but the flight attendant wouldn't let him on board. Steven watched as the doors began to close. He pulled out the ring and said, "Ma'am, please. I'm trying to get engaged." The lady said, "Follow me." They go behind the closed door and she said, "Show me the ring." She goes into full girl mode and calls over the other flight attendants as well. They go into full girl mode too, and Steven ends up sitting first class for the two-hour flight.
Back in Sacramento, things were a little bit more calm. Suzanna's dad was supposed to stall her. They went to Ulta for a "nail kit," but left with nothing. They decided to get coffee, yet they passed by several Starbucks. Finally, her dad said he wanted some cinnamon taffy from Candy Heaven, a store 25 minutes away. The ride gave her time to think. At first, she couldn't figure out why her dad suddenly wanted cinnamon taffy. "Dad, that's so random. Cinnamon taffy? None of us like cinnamon taffy," Suzanna said. "Well, your mom likes Bit-O-Honey. Let's go get her some of that," her dad said.
But then her mind turned to more serious matters. She told her dad that she was having a hard time not being bitter when Steven knows that she only has a few opportunities to plan the wedding with her mom. Her dad started laughing. "You don't know, maybe there are some circumstances that you don't understand," he said.
When they got to the store, they had only browsed for about five minutes when, suddenly, her dad asks her to take his arm. At this point Suzanna thought, "Maybe Steven is going to surprise me." But she didn't want to get her hopes up.
They walk outside. They turn the corner. And there he was: standing with a single red rose on the old railroad track where he had first told her that he loved her. A sprinkle of red rose petals laid on the track, and their favorite song was playing in the background. Oh, and it was sunset — her favorite time of day. "I didn't know what to do. I just started laughing, and then crying," Suzanna said.
"Can I ask you a questions?" Steven said. "I told you one day that I would show you how much I love you. Will you marry me?" And, of course, she said yes!
"People say, 'Oh, it matters what they do.' But, it just matters that they're there," Suzanna said. In fact, she didn't even look at her ring at first because she was so excited to see Steven. "It's the person. Not the thing. It was so beyond what I ever could have imagined."
Their wedding will take place on Aug. 1 in Sacramento, Calif.