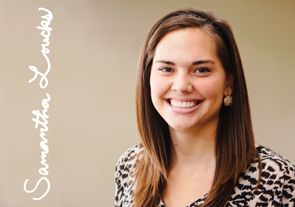 A few years ago, Target began airing Black Friday commercials starring a holiday-obsessed woman preparing for the two-day sale at her beloved retail store. Overzealous and borderline psychotic, the "crazy Target lady" adores everything about the Christmas holiday, screaming and hyperventilating when the new Target catalogue arrives on her front doorstep.
One commercial montage shows her training for Black Friday shopping. She lifts shopping baskets full of ornaments, times herself wrapping presents and does sit-ups on the large red spheres outside the Target store.
Despite her Christmas craze, the crazy Target lady does exemplify a sense of class. Her outfits are always Target's signature candy apple red, and her ensemble is never complete without a string of pearls or high heels.
This lady is the epitome of what I picture when I think about Black Friday: crazed people running through Target with their shopping lists, hand-drawn store maps, 50 percent-off coupons and shopping carts piled-high as they grab items from the shelves and race to the next deal (which is located on their map, of course).
Now perhaps I am mistaken. I have never been shopping on Black Friday, so I wouldn't know. But I have heard the wild horror stories. I've heard about the times when people have been trampled by other shoppers as they rush into a store that just opened its doors. I've heard about the women who don't wear makeup and shop in their pajama pants (the crazy Target lady would be ashamed).
Some say the retail chaos known as Black Friday isn't that intense. Some families have actually made the event into a tradition. Instead of going to bed after Thanksgiving celebrations, they drive from store-to-store with coffee in hand and shop until dawn. I'm not trying to bash family traditions or anyone who finds a few good deals. I'm just not convinced that this whole American institution is actually considered an official holiday in 17 states.
But I can't refuse to participate in this "holiday" without knowing the facts, so I did some research.
Writer Janet H. Cho offered some Black Friday shopping tips in a 2011 article that appeared on cleveland.com.
"Stick to the game plan and make a beeline for what you came for," Cho says. So this is where the hand-drawn maps and trampled people come into play. I guess I'll need a carefully-crafted plan and good running shoes. Check.
"If you're going to be out there [in the lines] for the long haul, bring whatever will make your wait more comfortable," Cho continues. She suggests taking Snuggies, tents, games and energy bars. So am I going camping or shopping?
"Join forces with friends who are just as psyched about Black Friday as you are and who want to shop the same stores you do," she says. This means I'll need to locate the crazy Target lady and ask if she wants to join my shopping team. (This is still a work in progress.)
"Don't get so wrapped up in your shopping that you make yourself vulnerable to thieves," Cho advises. So not only do I have to be on the lookout for stampeding shoppers, angry people with pepper spray and runaway shopping carts, but I also have to protect myself from thieves who want to steal my tent and Snuggie?
All these things considered, I think I'll stick to a Thanksgiving meal followed by a five-hour Phase 10 game with family and watch crazy Target lady commercials from the comfort of my own home. Hopefully, everyone else will enjoy the retail pandemonium of Black Friday—just don't forget your tents.