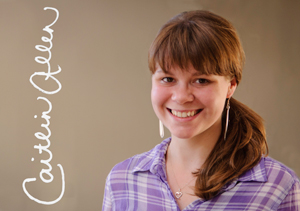 My uncle taught me how to ride a bike when I was 6.
From that moment on, I've loved biking. When I was a little girl, I used to ride my bike all of the time. I lived in a small town in rural Michigan, and riding was enjoyable and easy because there were no hills.
When my family moved to San Francisco, that all changed. San Francisco has some of the steepest streets in America. Those hills looked like mountains, and I couldn't climb them, so I quit riding. I didn't want to try, because it just looked too difficult.
Just like I loved riding my bike as a young girl, today I love reading God's word. There is nothing more exciting than reading the Bible, learning something new about God and applying it to my life to become more like Him.
But there are times when I hit a rough spot. Like recently, I have really been struggling to trust God about my future. I'm not even a senior, but questions like "So what are you going to do after college?" and "Aren't you engaged yet?" and "What can you do with an English degree anyway?" drive me crazy. I don't know the answers. I want to get so frustrated with God for not giving me the answers already.
God has given me something to work on that I struggle to change — trusting Him. It's my mountain right now, and sometimes it seems too difficult. I think we all feel that way sometimes. We struggle to climb the mountains God gives us.
I still regret the decision to quit riding. What if I had put the effort into learning to climb those "mountains"? I would still have a bike, and I wouldn't miss riding so much. I would be a better cyclist, and mountains wouldn't intimidate me because I would know I had conquered them before.
When God points out something hard in my life, a mountain like trusting that He has a plan for my life, I can't just verbally confirm trusting Him, and I can't lose heart. I have to get to the top of the mountain because God has something great in store for me. He wants me to trust Him with my life.  If I give up, I will completely stop growing.
Mountains are definitely difficult. If you've ever seen the Tour de France, you've seen some of the professional cyclists climb real mountains. They put one foot down after the other in a slow, monotonous way until they ultimately reach the finish line.
I have to climb up my mountain the same way — putting one foot down after the other. God will guide me up, and when I reach the top and look back, I won't regret learning to trust Him. I will be better prepared for the next mountain.