The Chi Alpha Cavaliers claimed the men's intramural basketball championship Friday night by defeating the Pi Gamma Royals 63-55.
The game was tied 7-7 with just over 13 minutes left in the first half as both teams fought for dominance in the early going.
After a driving score from the Cavaliers, sophomore forward Robert Troutman pulled down an offensive rebound and scored to give the Cavaliers an 11-7 lead.
Junior guard Bryce Allen hit two free throws for Pi Gamma, but sophomore guard Caleb Ketler nailed a three, giving the Cavaliers a 14-9 advantage. Minutes later, Ketler stole the ball from Allen and finished a tough layup at the other end of the court.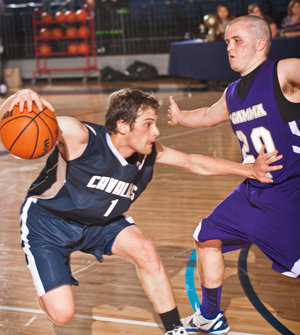 Pi Gamma struggled with turnovers on offense, and another big 3-pointer from Ketler forced Pi Gamma into a timeout with the score 22-11 in favor of the Cavaliers.
A layup from freshman guard Ryan Hwang and a baseline jumper from Allen kept Pi Gamma in the game, but a clutch 3-pointer from junior guard Matt Ashley kept the Cavaliers out in front 27-19 at halftime.
The Cavaliers started the second half with a 6-2 run, courtesy of some fantastic passing. Allen scored four straight buckets for Pi Gamma, and Hwang converted a layup before Ketler hit another three.
Pi Gamma got a stop on defense and then swished a three, and the game was on again.
Ketler once again responded with two 3-pointers of his own as his hot streak continued, extending the lead to 44-38, despite hard work from Pi Gamma.
A reverse layup from senior forward Shin Ho Oh made it 45-42. Junior guard Andrew Albert completed the comeback with a 3-pointer to tie the game with eight minutes left. Allen stepped up with a contested three to give Pi Gamma a 48-47 lead.
Ketler continued his great night with another three that was well behind the arc, but Allen hit back with a three as well.
Back-to-back jumpers for the Cavaliers with 49 seconds left forced Pi Gamma to start fouling to get the ball back, but they were unable to reel in the Cavaliers.
Both Ashley and senior coach Zach Bruce thought the Cavaliers' depth and chemistry enabled them to take the championship. The Cavaliers won with relatively few "big names," but everyone knew his role and was content to play it, making them extremely hard to break down.
Allen was named season MVP at the end of the game.