The Pi Gamma Delta Royals outlasted the Beta Gamma Delta Patriots in overtime during the playoff game on Tuesday, March 5, to earn a championship spot, winning 58-53.
In a tightly contested game, the Royals actually didn't lead until the 2:17 mark in post-regulation play.
Junior forward Bruce Burkholder led the way for Beta Gamma with 20 points. It wasn't until Pi Gamma's junior forward Bryce Allen hit an off-balance 3-pointer with less than a minute remaining in regulation that the Royals had a chance at a victory.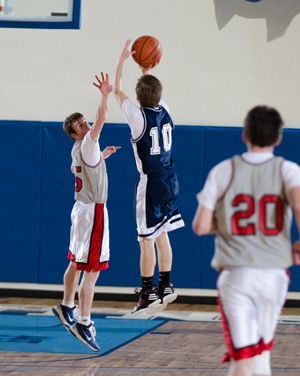 It seemed as though none of the Patriots' players could miss the basket as six different players scored during the course of the first half. The Patriots looked secure and comfortable with a 28-19 lead at the break.
The Beta Gamma offense kept scoring on a wide-open backdoor cut throughout the second half.
They had a 14-point lead at one time, and it seemed that Pi Gamma couldn't put together any sort of offensive run. But Allen outscored the entire Patriots' squad 9-3 in the last two minutes of regulation to put the game into overtime.
Burkholder had two key steals and an offensive rebound in overtime to keep the pressure on Pi Gamma.
But the Royals' freshman forward Seong Min Choi hit two free throws with 9.9 seconds left on the clock, and Beta's 3-point shot at the buzzer didn't fall.
"We came together as a team," Pi Gamma coach Allen said. His team really regrouped at halftime. "We were positive," he said. "We had positive attitudes. We just came out more confident."
Pi Gamma looks to hold on to the momentum from the win and the strong team defense to gain victory tonight against the Chi Alpha Cavaliers, the only team in either league with one loss this season.