Women's intramural soccer wrapped up its season in the spring weather as the Tri Epsilon Pirates looked to tame the Theta Delta Tigers in a hotly contested, well-attended championship game last Saturday afternoon.
The first half yielded plenty of opportunities for each team. The Pirates and Tigers traded shots back and forth, and the Pirates even had two shots inside the box toward the end of the half. Each shot was blocked by the Tigers' defensive backs. The half ended scoreless, despite heavy offensive activity from both teams.
But the second half took a different tone and got off to a fast start with a Tigers' breakaway down the right third of the field. Pirates standout junior goalie, Deborah Greenlee, made an aggressive slide on the ball and erased the play at the edge of the box. Greenlee continued her solid goalkeeping into the next play and made another stellar save to keep the score even at zero.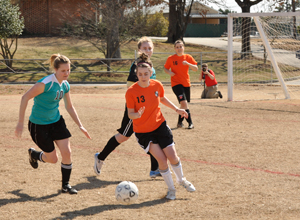 The first score came in the second half when the Tigers, who had controlled play for the first five minutes, let Pirates senior forward Becca Evans slip between two defensive backs and fire a shot into the back netting on the breakaway for a 1-0 lead.
The Pirates, continuing to rely on Greenlee's defense in the goal, nearly gave up the tying goal five minutes later when Tigers' junior midfielder, Sarah Iwanowycz, glanced a high shot off the crossbar and over the goal. That was as long as the Pirates' lead would last though, as Iwanowycz came back on the next possession and brushed a rolling shot off the fingertips of a diving Greenlee to even the score at one goal apiece.
The Pirates fought to keep the game tied, benefitting from the aggressive play of junior defensive back Chelsea Clemens to keep the ball cleared from the box after several ricochets off the keeper and the post. Tigers' sophomore forward Bethany Chism had two shots on goal in the final minutes, but neither made it into the net.
The final goal came with five minutes left. Sophomore Becca Bredehoft curled the ball off her right foot into the top right corner from 23 yards out to give the Tigers their first lead of the game.
The Pirates fought hard but were unable to get another good look at the goal, and the final whistle blew with the Tigers up 2-1 as this year's women's soccer champions.