The Phi Kappa Rams dominated the Sigma Spartans 52-33 in a convincing display of basketball on Tuesday, Feb. 26.
Both teams desperately needed a win to improve their rankings for the playoffs only a week away — although a loss would do more damage to Sigma than the Rams in terms of playoff implications.
The Rams started quickly behind the hot shooting of sophomore forward Manny Rivero. He scored 14 points in the first half as the Rams jumped out to a quick 20-10 lead.
Back-to-back buckets by graduate student and Rams' big man Paul Garnes pushed the Rams' lead to 24-10. A jumper off a fast break by junior guard Tyler Smith made it 28-11 with two minutes left in the first half.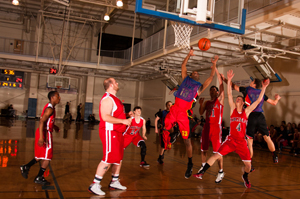 Sigma's offense struggled, barely breaking double digits in the first half, and they trailed 31-11 at the break.
The Rams hit a 3-pointer to start the second half and did not look back. Rivero converted a pair of free throws, Smith scored on another fast break, and Rivero got a one-on-one to extend the Rams' advantage to 38-16.
Sigma could not get the shots to fall, even when they got good looks. Junior forward Josiah Kilian had two solid drives to the rim, but the ball refused to go down and rimmed out both times.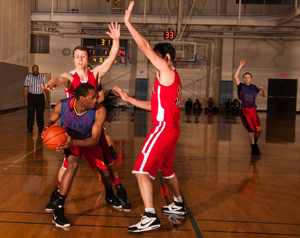 Several more shots hit the back of the rim and came out, and Sigma's defense was hampered by some harsh foul calls.
Smith nailed another 3-pointer to put the game beyond doubt with 3:12 left to play and the score now 51-29.
Rivero put in an impressive contribution for the Rams, scoring 19 points on the night.
With the victory, the Rams solidified their grasp on the top spot in the National League with only a single loss to Phi Beta. A loss would have put the Rams into a three-way tie for second place. They will be the team to beat when the playoffs begin.
Sigma will be unable to improve their playoff rankings, but they still hold the fourth seed and are definitely capable of playing much better and making a deep playoff run.