Phi Beta Bulldogs fall to Beta Gamma Patriots 60-51
The Beta Gamma Patriots used defensive pressure and strong offensive play to beat the Phi Beta Bulldogs 60-51 on Monday, Feb. 25.
Junior guard Mark England and freshman forward Nathan Ennis led the way for Beta in the first five minutes, with England nailing a jump shot and Ennis going for a layup.
Phi Beta came into the game with an injury riddled roster, but displayed tenacity throughout the game, matching Beta well on the defensive side. Beta's centers did a good job of blocking the passing lane and making Phi Beta turn over the ball. Both teams fouled numerous times, which gave easy points on the free-throw line.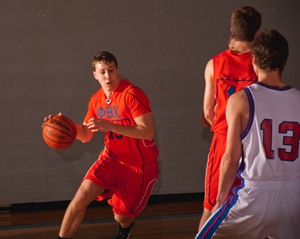 Freshman forward Billy Kauffman pulled Phi Beta out of a slump early in the first half by making a jump shot and pulling down a few rebounds.
With five minutes left in the first half, Beta led by five, 21-16. Ennis sank a jump shot to pull ahead by another two points, but Phi Beta's Daniel Ellerbrock, a freshman forward, made a layup and senior Chacho Valadez made his free throws and another 2-pointer to tie the game at 25 each. Beta's freshman guard Daniel Sprankle was fouled and swished both shots to put Beta ahead by two at halftime.
Beta came out strong in the second half, taking a two-point lead and turning it into a 10-point lead within minutes. The Bulldogs tried to recover, but missing key players on the defensive side hurt them in the second half, especially when it came to guarding Beta's tall junior forward, Bruce Burkholder, who repeatedly drove to the basket for layups amidst Phi Beta defenders.
The Bulldogs started a mini-run late in the second half off of a beautiful 3-point shot by sophomore forward Tyler Collins, which was followed by a two-point shot from Kauffman, pulling the Bulldogs back to within nine of the Patriots. Turnovers and fouls prolonged the game, but in the end England sank a pair of free throws to seal the win 60-51. The win for Beta came at a crucial point, because, despite a slow start, they have become the team to beat this season. However, if Phi Beta can heal, their team still has a solid chance of making the championship game.
Your donation will support the student journalists of Bob Jones University. Your contribution will allow us to purchase equipment and cover our annual website hosting costs.