March is here, and Bible Conference fundraisers are in full swing. Every year, students raise money for a special cause, and for the past few years, that cause has been the renovation of the dining common.
So what is needed to finish the job? We need to raise $800,000 to complete the dining common. Most of what is left to be done involves interior design and moving from a temporary setup to a permanent one — but it goes far beyond new wallpaper. "The goal of 'the common' is to create an atmosphere that facilitates fellowship," said Mr. Marshall Franklin, executive vice president and chief operations officer. "'Iron sharpening iron' ties the most to our mission, and it's the part that I am most excited about."
The dining common is going to be designed and arranged to best meet that goal. There will be three stations to get food, and they will be placed strategically around the dining common. The food lines will come down the center aisle and spread around the stations on both ends of the dining common to create shorter wait times in line (this was actually Dr. Jones' idea). In the meantime, Franklin suggests planning your meals around the lines like you plan your life around the traffic in Atlanta.
"The tables that are in 'the common' now were built for family-style meals, which we don't [have] anymore," Franklin said. "We are moving to the minimum table top size that is acceptable to create space. It will be like a Paris café table." All the tables will seat two or four people, and barstool seating and booths will line the walls.
The drink walls will be downsized to about a third of the current size. The alcoves that remain will be available for reservation by groups for classes or outreach ministry meetings. In addition, HDTVs that tell you what's on the menu and where to find it will be installed above the entryway to the Varsity Room.
So how can we make all these improvements happen?
According to Mr. Kasey McClure, head of student activities and organizations, there will be between 15 and 20 official campus Bible Conference fundraisers with plenty of individual student ones in between. "Almost all of the ideas come from students, not me," McClure said. "Part of fostering creativity in the student body is by letting them come up with the ideas and [working] together. I act like the gatekeeper. I help them get the resources they need, and I approve the idea or help get it approved."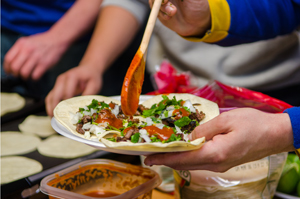 Some of the ideas this year are pretty traditional: a golf tournament, "Johnson burgers" and "desk dogs" from Brokenshire. Other fundraisers are new: steak tacos from Ironside, a basketball tournament and a dodge ball tournament from Smith and pancakes from Johnson. "I would really encourage the guys and girls to work together and support each other," McClure said. "Since it's not a competition between sides of campus, the girls shouldn't be hesitant to support the guys' dorms, and the guys should support the girls' dorms. Let's get it finished!"
Franklin will be doing his own kind of fundraising by encouraging people outside the University to support this project. "I am breaking up 'the common' into little pieces," Franklin said. "Anyone could be involved by purchasing a chair, a TV or paying for the whole alcove."
God has been blessing, and we are almost done. "It isn't a concept anymore," Franklin said. "It's a reality, and it is something that directly affects you and future generations — be passionate about it."