That special day that happens only once every four years is almost here: Gold Rush Daze with this year's superhero twist. So get out your red or green face paint, decorations and T-shirts to support your team. On March 12 students will wake up to a day filled with excitement, competition, laughter and surprises.
The two teams are divided by residence halls. Green Thunder includes Gaston, Creel, Johnson, Reveal and Brokenshire, while Red Lightning includes Sunday, Mack, Siddons, Ironside and Smith.
But Gold Rush Daze isn't just for residence hall students. Day students can choose a team on BJUSync. Just type "Gold Rush Daze" into the search bar, choose "Gold Rush Daze Day Student Registration" and fill out the form.
New this year, Green Thunder and Red Lightning have their own Facebook pages, so support your team with a "like" and keep up with your team's news. Also, in the next few weeks, students will be able to buy paraphernalia such as T-shirts to support their teams.
A typical Gold Rush Daze begins at 9:30 a.m. when faculty and staff members show up at the residence halls with breakfast in bed for the students. Also this year, day students can stay in the dorms the night before Gold Rush Daze so they too can have the full Daze experience.
After breakfast, students can relax or get pumped up for the day's activities. At 11:45 a.m. students will meet on top of the parking garage for lunch.
Next, at 1:15 p.m. the competition spirit gets a boost with a rallying parade of red and green vehicles from students, vendors and other groups from Greenville. This is the time to cheer, scream and get a little crazy. Assistant dean of mentoring and counseling Mr. Stephen Wetterlund said this year the judges will carefully watch the parade to award points.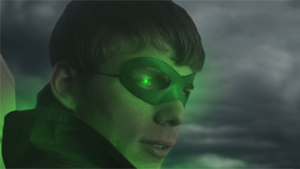 Finally, the time comes for the battle between Green Thunder and Red Lightning. Students from both teams will meet at the Athletic Field at 2:15 p.m. to begin the athletic competitions.
Wetterlund said this year's team captains for Green Thunder are Johnson supervisor Mr. Ben Smith with Creel supervisor Miss Natalie Smith, and for Red Lightning, Ironside supervisor Mr. Jay Cross and his sister, Mack supervisor Miss Laura Cross. Soon the captains will look over the "Gold Rush Daze Game Manual" and begin to prepare their teams for the intense competitions.
"The goal is to get as many people involved as possible," Wetterlund said. "Some of the games have up to 200 or more participants."
Both Smith and Miss Cross are determined to lead their teams to victory. They said the competition this year involves other factors besides the games, specifically the decorations and the parade, so the teams will have to step up to the challenge.
To refresh after the games, the BJU family will have a Southern fried dinner in the Activity Center at 5 p.m.
Though the day seems to have come to an end, the fun keeps going. At 7:30 p.m. in the FMA the faculty, staff and administrators will present their version of student body, known as faculty body.
Wetterlund said this is a show students will not forget. The preshow, beginning at 7 p.m., whets students' appetites for what is to come. Wetterlund said past preshows included the appearance of Bob the Bobcat, random skits in different parts of the FMA, candy giveaways and a crowd camera.
"You get to see faculty do crazy, embarrassing things," Smith said. He said the last faculty body centered on a Wii theme with Dr. Stephen Jones playing different games that were acted out by faculty and staff members. The night included a surprise appearance from Patch the Pirate and Dr. Jim Berg swinging across the FMA as Indiana Jones.
After faculty body students will make their way out to the athletic field for a singspiration, spiritual challenge and finale fireworks.
Though it's just one day, Gold Rush Daze really is a daze of activities that leaves students exhausted yet filled with college memories. "The goal is for everyone to be involved and to make a memory they will carry with them through their college experience," Miss Cross said.