In a showdown between two Bruins teams, the BJU Bruins men's basketball team captured a remarkable victory over the Piedmont International University Bruins, 86-84 in overtime.
Junior guard Zach Mercado led all scorers with 28 points, including three heart-stopping buckets in the final six minutes of the game.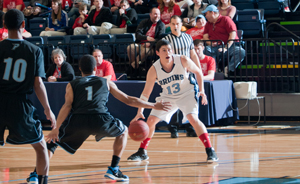 BJU led 38-29 at halftime, thanks to excellent play from Mercado and sophomore guard Darnel Antoine.
Attacking the basket with determination that has not often been seen this season, Antoine and Mercado rebounded, passed and scored with authority.
PIU's guard Javon Summers made 14 of his 17 free-throw attempts, including nine of 10 free throws in the last five minutes of regulation to keep his team in the game.
"[PIU] played a great game tonight," coach Neal Ring said. "It was a shame a team had to lose tonight."
"We outscored them 18-5 in the last part of the first half, and a lot of that was just on penetration."
PIU led 66-61 with 45 seconds left in the second half and seemingly could not miss a free throw in the final minutes of regulation.
"Not one person on that bench thought we were done," coach Ring said. "I think everybody on the bench felt like, 'hey, we're going to win this.' And that was when we were down [by] four with under a minute left. It was great to see."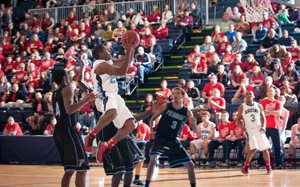 Antoine made two layups on back-to-back possessions to keep BJU in the game. Mercado hit a 3-point shot from the corner with less than 20 seconds remaining to put BJU within one point. He then hit an NBA-range 3-pointer to tie the game with 5.6 seconds left on the clock. PIU missed a jumper at the buzzer, and the game went into overtime.
Both teams led in the extra period, and PIU grabbed a four-point lead with less than a minute left. Mercado hit another three to cut the deficit to one and then nailed a fade-away jumper with 15 seconds left. Mercado hit a final free throw with six seconds left to give his team the 86-84 victory.
"When you make two guys guard you, that creates that open shooter [and the] post-slide for an open shot," Antoine said. "Just be able to get to the basket and when you do that, [it] collapses the defense and you have more space."
It was Antoine's two buckets that allowed BJU to be in a position to tie the game in the closing seconds of regulation.
"It's really hard to explain, but sometimes you just get in this mindset," Mercado said. "I didn't realize I needed a three." He said he was feeling it in the final moments, and it was almost as if he was alone in the gym.
"God blessed us," coach Ring said. He gave all the credit to the Lord for the ability and stamina to win the most exciting game the Davis Field House has seen this semester. "We fought through a lot of adversity, we stayed relatively under control, and God just blessed us."