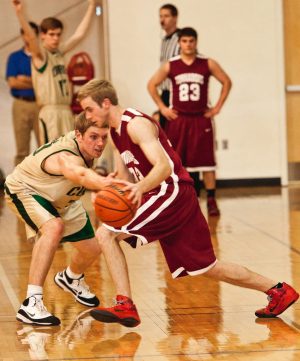 Despite a tense first half, the Zeta Chi Tornadoes beat the Pi Kappa Cobras 63-43 on Monday, Feb. 4. Senior point guard Josh Baun had 16 points and led Zeta Chi to victory.
The first half included 10 lead changes and seven ties, but ended with the Tornadoes ahead 23-21. Junior point guard Paul Cadavos sparked the offense for Pi Kappa. Zeta Chi relied heavily on its guards and stayed level with the Cobras through layups and transition buckets. Baun and sophomore shooting guard Phil Shiver lead Zeta Chi scorers in the first half with four points each, while Pi Kappa's sophomore guard Nathan Zakariasen scored eight in the first half.
Zeta Chi came out fired up for the second half and outscored Pi Kappa 10-7 in the first five minutes. Baun was the key in this run, scoring a layup and two free throws to keep the Tornadoes out in front. Senior guard Dan Sells caught fire in the second half, contributing 11 points, including a crucial 3-pointer to extend Zeta Chi's lead to eight with 10 minutes left.
Pi Kappa relied heavily on Zakariasen throughout the half as he kept them in the game until the closing minutes. Three technical fouls, turnovers and missed opportunities plagued Pi Kappa throughout the second half, preventing the Cobras from making a comeback.
"We were missing one of our starters [in the first half]," Zeta Chi coach Sells said. "But once he showed up, we started throwing subs in." Sells said his team likes to rely on the quickness of the guards to take advantage of transition points. "[Baun] is, in my opinion, one of the best point guards in the league right now, and [Shiver] is also a great shooter. They just both took leadership roles and stepped up when we needed them to and hit big shots."
Sells applauded his team for keeping a cool head during the second half, despite tough calls.