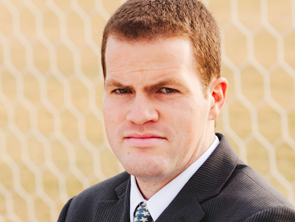 At any level of athletics, coming from behind to win a game is the most exciting victory an athlete can experience.
Dominating performances are great, but hitting a buzzer beater, kicking a field goal as time expires, scoring a goal in stoppage time or launching a walk-off home run can't be beat.
In the 2008 UEFA European soccer championship, Turkey faced a daunting challenge against a strong Czech Republic team.
After 62 minutes of action, Turkey trailed by two goals. The winner of the game would move on to the knockout rounds, while the loser would be eliminated from the tournament.
The chances of winning looked bleak, until Turkey produced a stunning comeback.
A goal in the 75th minute made it 2-1, and then a shocking error by the Czech goalkeeper gave Turkey the equalizing second goal in the 87th minute.
With the Czech defense in tatters, Turkey's captain, Nihat Kahveci, sealed the win with a delightful winning goal, his curling shot striking the underside of the crossbar and bouncing into the net.
Minutes later, Turkey came out as the improbable, but successful 3-2 victors. Turkey's excellent finish to the game overcame its poor beginning and, in the end, was what ultimately mattered.
Although starting well is important, finishing well is what determines success or failure. Scripture offers plenty of examples of people on both sides.
King Saul had a solid beginning. Humble and others-focused when he first came to the throne, he treated all of his subjects with godly respect and mercy.
Over time he grew arrogant, however, and disobeyed God by not destroying the Amalekites and by offering a sacrifice that only priests should have performed. He died like a coward on the end of his own sword, out of fellowship with God.
Other men had wretched beginnings. Joseph was sold into slavery, Peter denied Christ three times, and Paul had the worst of all possible beginnings by persecuting and murdering Christians.
All of these men overcame difficult starts to finish victoriously. Joseph became the second most powerful man in Egypt. Peter preached at Pentecost when 3,000 souls were saved. Paul wrote much of the New Testament and took the Gospel to the Gentiles.
Over the summer of 2008, Turkey earned the moniker "Comeback Kings," not just for their surprising win against the Czech Republic, but for two more come-from-behind games against Switzerland and Croatia, demonstrating remarkable resilience in each match.
Whether you've had a bad start to the week, the semester or (hopefully not) your college experience, you can always finish well.
Overcoming these early setbacks will take hard work, discipline, an unconquerable spirit and constant reliance on God. But it can be done.
Because anyone can start well, but finishing the course is the true test.